Click Pay Day from the Side Bar
Navigate to Pay Period and confirm the title displays Last Posted Pay Run as per the below example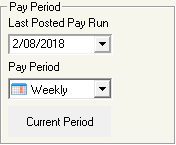 If your Pay Day Window does not display this title, it typically means the last pay run has not been posted. If assistance is required, please log your Support request here.
Last modified:
2020/01/14
Feedback
Thanks for your feedback.