The File Menu allows you to open, edit, delete, close, copy and duplicate your Company or Companies. This menu also provides quick links to several windows contained in Company, as well as the ability to process End of Financial Year and export your payroll data to your Accounting Software.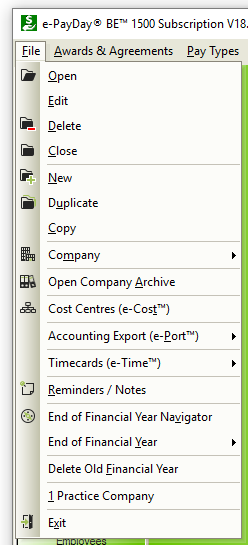 Open: Open a Company
Edit: Make changes to the open Company.
Delete: Delete the open Company.
Close; Close the Company.
New: Create a new Company.
Duplicate: Duplicate the open Company.
Copy: Copy the open Company.
Company
Open Company Archive: Opens the required Archive (eg.

FYE

2017) for the currently open Company.
Cost Centres (e-Cost™): e-Cost™ can be used where an employee works over multiple departments (Sales, Administration and Support) or works on serveral projects/jobs and the hours worked in each department/project/job must be separated for costing and reporting.
Accounting Export (e-Port™): e-Port™ enables you to easily export your payroll datato your accounting software, not limiting your ability to effectively run your business.
Time Cards (e-Time™): e-Time™ enables you to automatically post the employees total hours with the applicable pay types directly into the pay run without having to do any manual calculations.

Import File Settings: Enter or select your Generic Text Import or Bio-Clock Import Settings.
e-Time™: Process your pay run using e-Time™.

Reminders / Notes: View exising and create new Alerts and Reminders for the currently open Company.
End of Financial Year Navigator: Flowchart for the End of Financial Year procedure.
End of Financial Year
Delete Old Financial Year Data: Delete previous Financial Year Data older than 8 years.
Last modified:
Mar 18, 2020
Feedback
Thanks for your feedback.