The Excel Add On allows users to upload documents for jobs, as well as images for both jobs and inspections.
Job documents can only be uploaded using the "Job Documents" form that can be generated when the user chooses the "Import Job Data" option on the Import Wizard. Images can be uploaded along with the forms that create/update jobs and inspections. The job documents form will look like the following: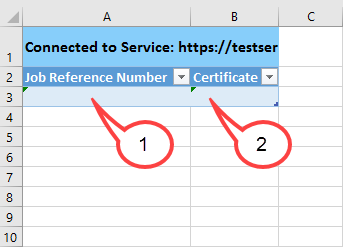 1). "Job Reference Number" field – This must contain a valid "Job Reference Number" from the JMS application of a job that is in progress
2). "Certificate" field – This must contain a valid full file path to a document that exists on the computer
Insert the files you wish to upload. Your sheet should then look similar to the following:

You may have more than 1 row for a particular "Job Reference Number". You can also upload files for multiple job references.
Once everything has been entered. Click on the "Sync" option as indicated by the number 1 in the picture below: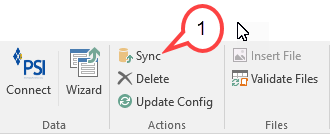 If there are no issues with the entered data. The sheet header should turn green and will look similar to the sheet shown below:

Feedback
Thanks for your feedback.