To start importing job data, first bring up the "Import Wizard" (steps can be found here: Bringing up the Import Wizard) and click on the "Import Job Data" option. This should show you the following window: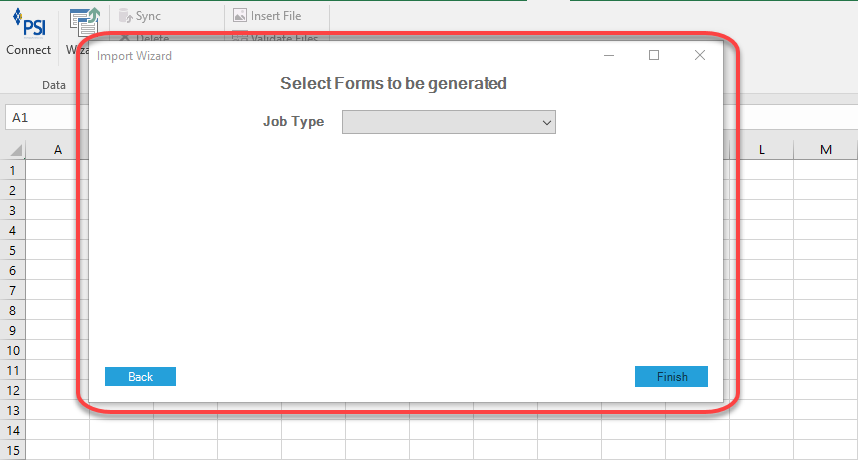 Now click on the drop-down list next to the "Job Type" label (Indicated by the number 1 in the picture below). This will show you the different job types you can import.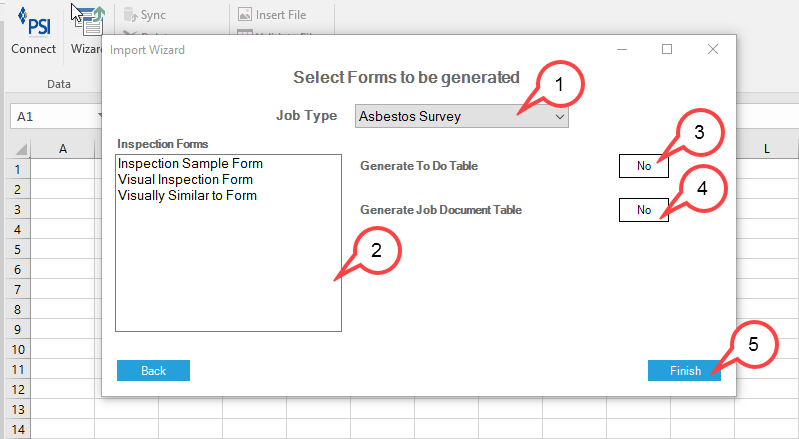 1) Job Type Drop-Down List – A list that appears when clicked to allow the user to select the type of job they are importing data into
2) Inspection Forms – A section that shows the forms that can be generated for this particular job type
3) Generate To Do Option – This will generate a To Do entry form if the value is "Yes"
4) Generate Job Document Table – This will generate a Job Document upload form if the value is "Yes"
5) Finish Button – This will start the generation of the selected forms
Once you have selected the job type you will be shown forms that can be generated for the job type selected.
To select "Inspection Forms" for generation you have to click on 1 or more of the available options. Once it is selected the option will be highlighted blue as shown below: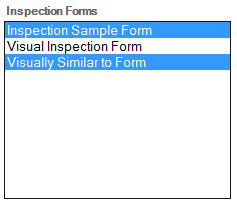 Clicking on the option again will unselect the form for generation and the option will no longer be highlighted.
To generate "To Do" and "Job Document" forms you will have to change the value next to the corresponding form, from "No" to "Yes". To do this simply click the "No" button, which will change it to "Yes" and the button will also change colour to blue as shown below:

Clicking on the button again will change the value back to "No" so the form will not be generated.
When all the forms have been chosen, click the "Finish" button. Which will generate all the forms on seperate Excel sheets for you. Below is an example of selecting all the available for types for generation:

Next Step Entering Data:

(Link to Visual Insp)
(Link to To Dos)
(Link to Job Documents)


Feedback
Thanks for your feedback.