The Asbestos Management Suite is a database system that consists of many Component data tables. Component Names cannot be changed but the items that make up the component (Attributes) may be edited.
For each Property there will be a number of Surveys, this is the collective term used for a collection of inspections performed at the property.
You can perform Inspections on any data level within the Property. Although 3 levels are shown, there are a possible 5 levels that you can create and inspect.
You will have decided the protocol for when Photos, Drawings, and Samples are created; these are linked to the inspections.
No-Access records are not inspections, they are records of areas that you were not able to access.
Surveyors may recommend actions when inspecting, you can turn these into Actions. When in progress these are intent to act on an issue (which may be as minor as intent to re-inspect).
Action Management and Recommendation Management are options within AMS Manager to group together actions and recommendations.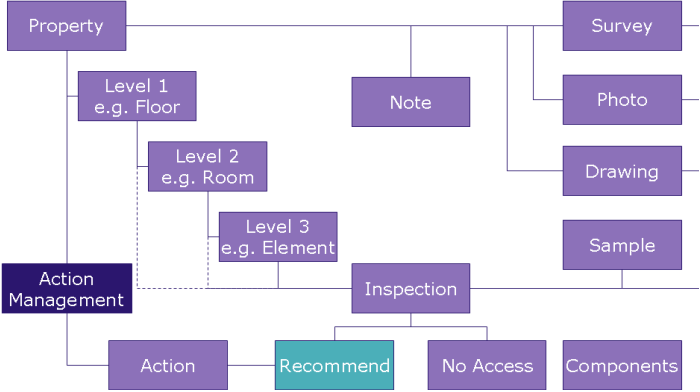 Feedback
Thanks for your feedback.