From the billing menu click on View/Pay invoice. This menu option allows you to simply view individual invoices or make a payment on existing invoices.
The screen will first display all invoices. You have the option of narrowing your search by entering in a student name, due date or other search criteria. You may also view only open invoices by selecting the status of OPEN.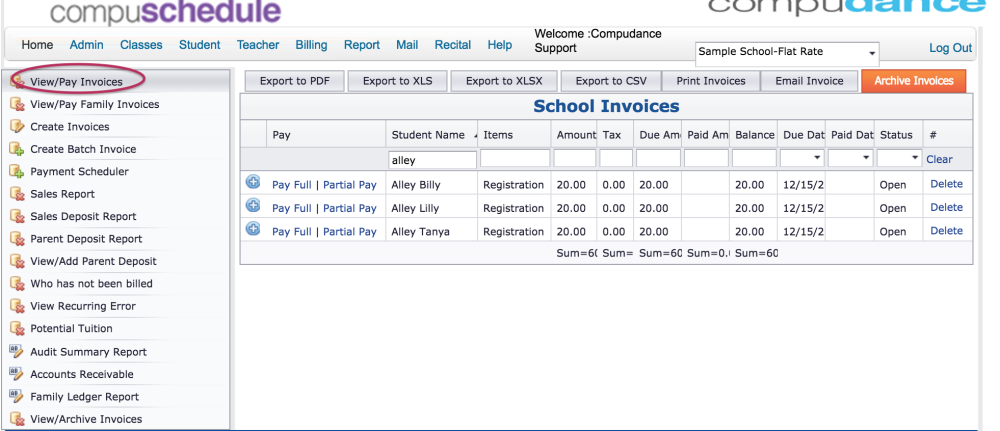 View Invoice Details
Click on the plus sign. The invoice will expand and the billing details are displayed.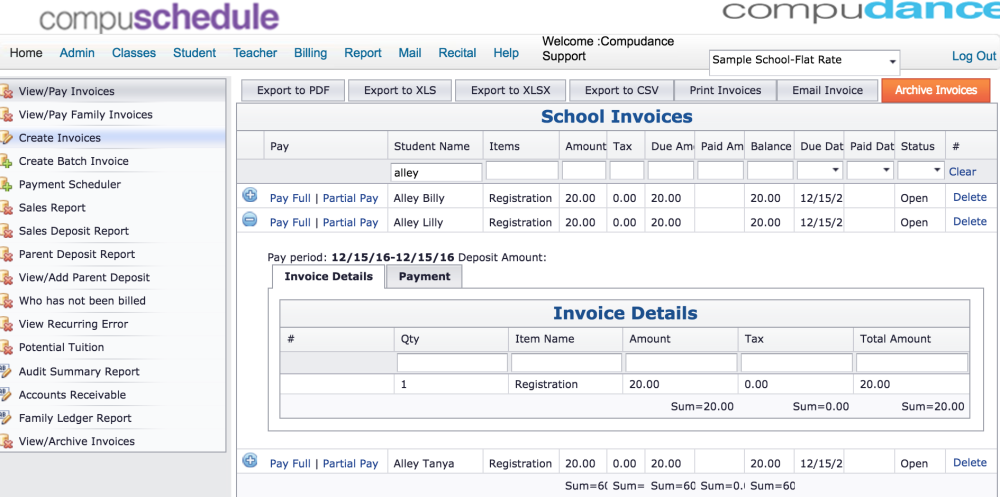 Make a payment
There are two payment options – pay in full or make a partial payment on the invoice

How to Pay in Full


Select Pay Full
Select payment type (cash, check, credit card,

ACH

, From Deposit)
Select the Bill to Person
Payment Date – will default to today's date but can be changed to a date in the past or future
Note – is an optional field and allows you to enter a message
Hit

PAY

button


How to Partial Pay


Select Partial Pay in front of the invoice line you want a payment applied.
1st Enter amount – a partial amount can be entered on each line item. Leave blank if not applying any payment to an item.
2nd Click the checkbox on only those items to which you are applying partial payment You will see the Total Amount box calculate the total of the payments to be applied.
Select payment type (cash, check, credit card,

ACH

, From Deposit)
Select the Bill to Person
Payment Date – will default to today's date but can be changed to a date in the past or future
Note – is an optional field and allows you to enter a message. The

NOTE

will be shown on the Statements.
Hit

PAY

button