When beginning a new registration period (or season), there are just a few steps to get the system ready:
1.Create a New Season
Go to ADMIN -> SEASON TAB
Click Add New Season Button
Name of season – This is determine by the studio
Begin Date – first day of classes for the season
End Date – Last day of classes for the season
Status Options
Active – indicates season is Open for enrollment by studio and parents if offered.
Do not show – season classes can be enrolled by studio only, not parents. (use when setting up the season)
Inactive – previous season or a season that is no longer in use.
Default – when checked, the season name, start and end dates will be auto-populated in other parts of the system. For example, on the class screens.
2. Add Classes to the season
Once the new season is created, you have the option of adding existing classes as well as creating brand new offerings.
To add a class that was previously offered.
Go to Classes
Change the Season to the season the class currently exists.
Find the Class.
Click the plus to see the detail tabs
Go to the Class Manage Schedule tab
If the season you are adding is not listed – Click Schedule New Class
Complete the form for the season you wish to have the class.



p(banner tip). Note: it will automatically populate the season, start and end dates for your default season.
If you select days of the week, the class will be scheduled on the calendar for every occurrence of that day in the time period entered.
Click Schedule.
You will see a message that the class has been scheduled if a Day of the week was marked.

If you did not select a day of the week, you will see the following message.
The class will still accept enrollment of students. (If class status is Active- Studio or parent can enroll when season is active. If class status is Do Not Show, only the studio will be able to enroll students.)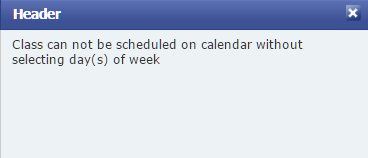 Once all of your classes are entered in the new season, you can open online enrollment by editing the Admin-School Season to have a Status of active.
3.Invoicing
New Families/Students: You can have an invoice auto create when a family is registering for the first time.
Income Category-Pay at Signup
You can decide if you wish to Pre-Invoice for the new season.
Some will batch invoice all Active Students for a Registration fee or Class Deposit for the new season to be enrolled.
Contact us if you want to discuss the options or if you want us to turn off the payment scheduler for Auto-pay for these invoices.
4.Announce Open Enrollment
If you are using the online parent portal, you can email all of your active students who have an account to login and let them know when enrollment is opening. If you go to Mail- Express Message and select Users for All Parent Login.
Here is a sample letter that you can use as a template. You would need to know your login link if you want to embed it into the letter, or you can direct them to your webpage with the link.
****************************************************************************
Hello.
We are opening our enrollment to have online registration on (enter date/time)
Since you are already in our system, please login by clicking here. Your login is your email address that received this email.
You can use the Forgot password option to reset your password if needed.
Once you login and agree to the terms and conditions, you may do any of the following.
To enroll in Classes, click the Enroll in Class menu option.
You may save/update an auto-pay account, view/pay invoices at any time.
You may upload a picture of your student in the Student Image option.
You may change your password or account information in the My setting page.
To change the student you are currently working on Click Select Student on top right.
The studio will be posting in the Bulletin Board section.
To view this section, you must pay the $10 CompuDance membership fee.
The membership fee will also give you:
Access to all areas and benefits for a full calendar year.
Your students will also be entered into a $500 tuition scholarship lottery which will be drawn on September 15th.
You can also receive discounts.