You can add an additional charge to an existing invoice or group of invoices.
First you must already have the income category created and the price set for which you wish to charge.
To create a new charge category go to Admin->School Setting Types->Income Categories
To set the price go to Billing – > Income Category Price
Go to Billing – > Batch Additional Charge.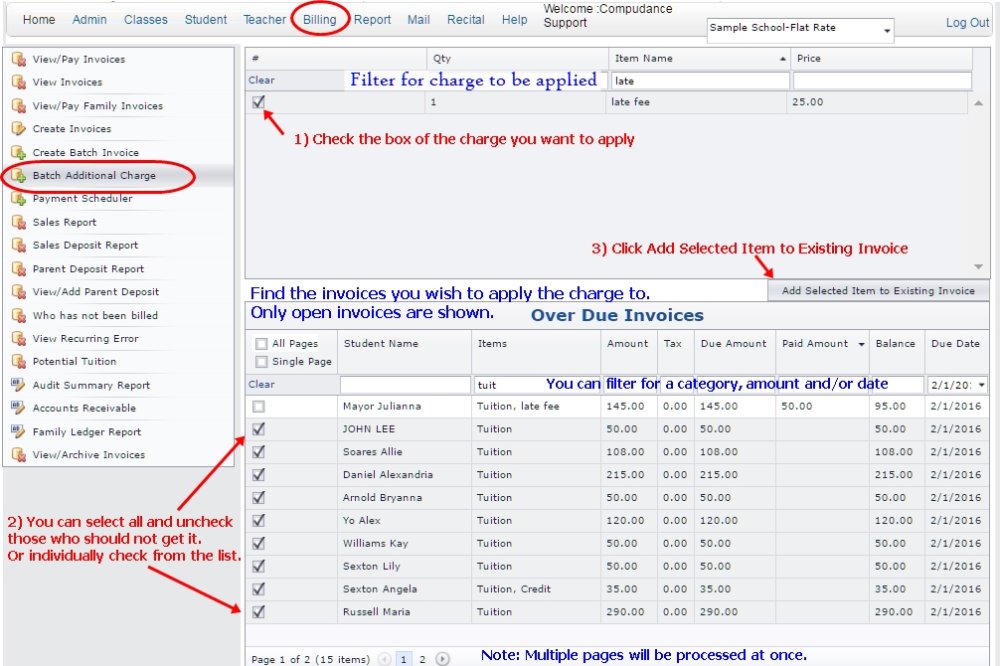 Select the category you wish to apply. Check the box. You may select more than 1.
Find the open invoices who should have this additional charge applied.In the bottom table. You may filter for student, income category/item, amount, due date Check the front of the invoice to mark it for applying the additional charge. You may select one invoice or all.
Click Add Selected Item to Existing Invoice
This feature can be used to change a tuition invoice after it is invoiced, especially if a class is dropped. We recommend you make a negative income category " Tuition Adjustment- Class Dropped or Cancelled" or something like it. Do not edit the price of category "Tuition".
You may then add the adjustment to the Tuition invoice resulting in the balance being reduced by the negative amount. Make sure the invoice balance will not fall to zero or below. In that case you must place the adjustment as a parent adjustment in" View/Add Parent Deposits.":https://www.manula.com/manuals/compudance/compudance/1/en/topic/deposit