The Gateway tab found in the main Admin section allows for a payment processor to be integrated with our system.
This will allow the school to process credit cards and/or checking account withdrawals (ACH/EFT) for payment from an existing invoice in CompuDance.
The payment can be entered by the school or customer if online registration/portal is activated.
It can be processed as a one-time transaction for an invoice or group of invoices, or be from an account on file.
The payment account on file can be select by the school or customer or by the autopay system.
There should only be one active gateway per school.
The gateway information will come from the account processor who must be an approved processor for the integration to work.
In the gateway information, the school has the option to allow a new registration to SKIP saving a payment account on file.
If you check the box, Show Skip Button this will allow a registrant to click SKIP and not enter an account.
If it is not selected, the registrant will not be allowed to complete the registration without entering an account.
You may allow customers to make a partial payment to an invoice in the Parent Portal. To give them this ability check the box Show Parent Partial Payment Text.
To allow The Staff and Admin to make partial payments in the View/Pay Family Invoices section, check the box Show Admin Partial Payment Text.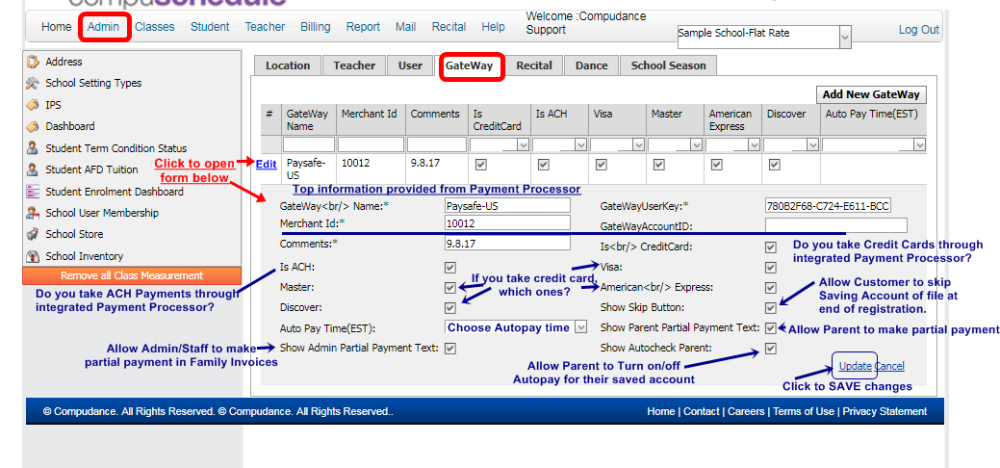 If you* accept credit card payments*, you must have Is Credit Card checked.
You must then check off the types of credit cards you accept.
Keep in mind, Discover and American Express must be explicitly requested for when you apply with the processing company.
You can see if you accept these cards by looking at your VAR sheet.
If you accept ACH/ payments from checking accounts then you will need to have Is ACH checked.
The system will look at these checkboxes to show only the payment types that are selected to the parent, student and studio users.
If you have Autopay activated, you can select the time of day you wish these invoices to begin processing. You can choose any of the following times in the Eastern time zone ( 4 am, 4 pm, 8 am or 8 pm)
You have the option to set auto-pay to run for Tuition ONLY.


CompuDance will need to turn on the autopay feature if you would like to begin using it.
You may allow the customer to turn on and off the auto payment from their account saved on file. If you want them to be able to turn on and off autopay, Check the box Show Autocheck Parent.
Click Here To see more about Auto-Pay
Our Integrated Payment Processors are PaySafe & PaymentSpring
PaymentSpring
For

USA

Businesses
Our Contact:
Brian McGarry
Email:
Brian.Mcgarry@paymentspring.com
Phone:
402-960-4527
PaySafe
For

USA

Businesses
Outside the

USA

Our Contact:
Irene Villalpando
Zachary Schneiderman
Phone:
O: +1 949 371 2177
M: +1 949 372 0744
1 514 380 2700 ext. 8292
Email:
irene.villalpando@paysafe.com
Zachary.Schneiderman@paysafe.com