You have the ability to post bulletin board style in parent portal to all your parent users.
You may write comments, upload images, link to videos/music or websites.
Go to Mail on the top menu.
Select Post to Bulletin Board on the left side.
Add a Post (demo video below)
Click Add New Post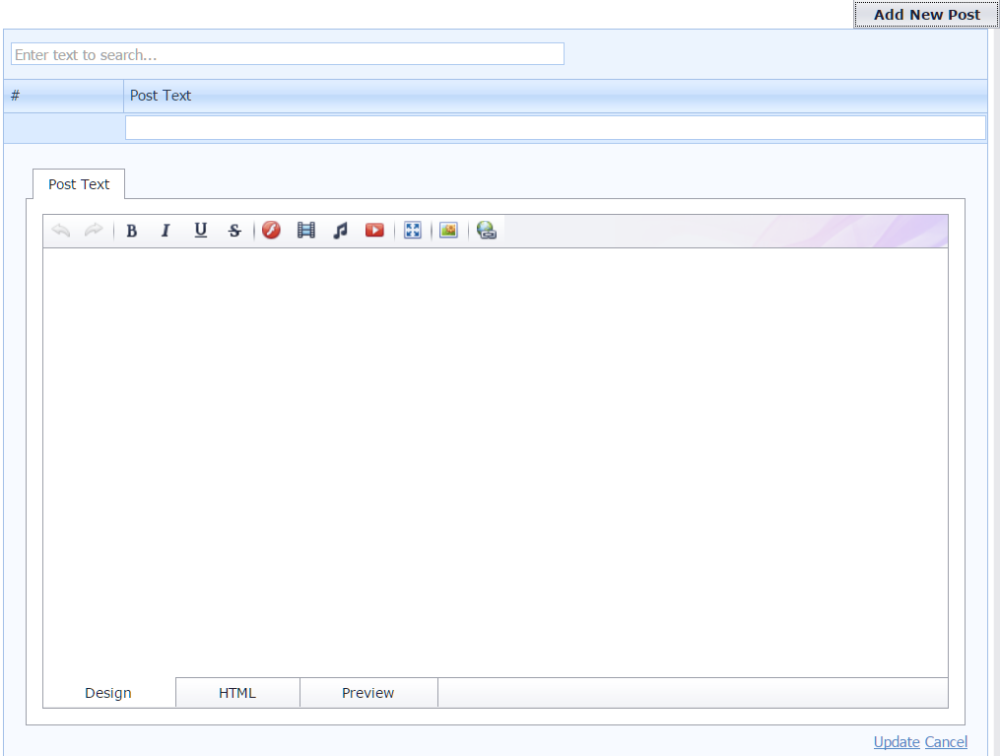 You will see the post editor open. You can upload any of the following items by clicking on the desired button.


– To activate flash code in the post


– To upload video or link to an online video that is not youtube (mp4 or mov)


– to upload music or link to an online music file (mp3 or wav)


– to link to a you tube video


– To view the screen full size


– To upload or link to an online picture (jpg or png)


– To link to a website page
You can always call us if you need assistance creating a post.
Click Update to Save to the Bulletin Board.
Existing posts
Posts will be ordered with the most recent posts added at the top of the list.
If you wish to remove a post from the Bulletin Board. Click Delete.
You may edit your posts, by clicking Edit in front of that post.
Video Demonstration

This is a beta function. We will be working on it further to give you more functionality.
Add Image from Bulletin Board to Express Message.
You can use your image from the Bulletin Board in an email.
1. From your Bulletin Board, you are going to Right Click on the Image you want to use in your email. (If you are using a Mac you will use Ctrl + Click). Select the "Copy Image Address" option.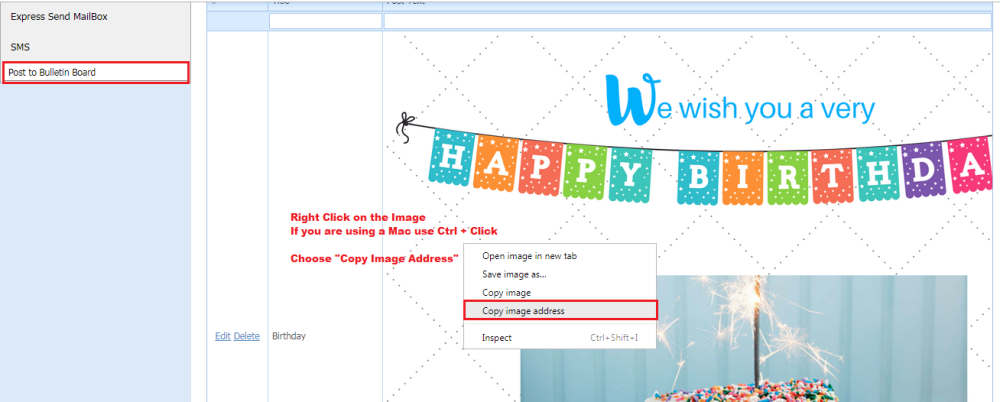 2. To the left, click on Express Message, scroll down to your message box and click on the Insert Image icon. Choose the tab that says From the web (URL). Paste that Image Address into the bar.
3. Remove the letter "S" from "https://" and click OK.