Batch invoice allows you to create invoices for multiple students at the same time. This feature is great for billing tuition or other expenses that need to be charged to a wide group of students.
To begin, go to billing and select Create Batch Invoice.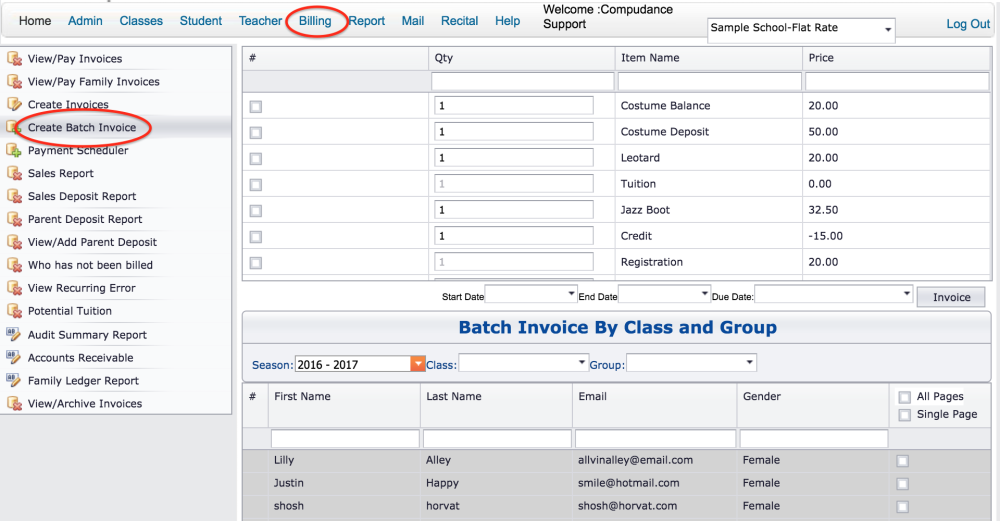 Create the Batch


Select the income categories to be charged – can be one or many


Enter the start and end dates – the dates can be used to represent the time period being charged or it can simply be today's date
Enter the Due date – the date the payment is due
Select the students to be charged. Can be one, some or all. If selecting all, Click the box that says 'all pages'

NEW

!

Batch By Family.

Check the box next to Distinct Family Student if only one invoice should be generated per family, not by the student. Example: Recital Fee, Family Registration.
If you need to edit the price, you can click into the price box and enter in the new amount. You can do this for all income categories except for tuition.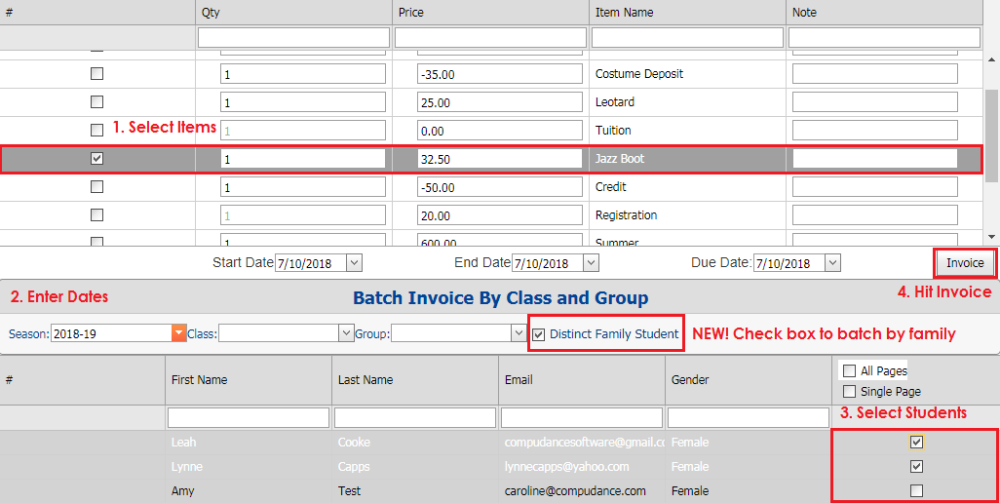 Batch by a Class or Group
Often there is a need to bill just the members of a class or other small group of students. Batch billing gives you the ability to select students based on their class or a defined group.
Batch by Class

Select the income categories to be charged – can be one or many


Enter the start and end dates – the dates can be used to represent the time period being charged or it can simply be today's date
Enter the Due date – the date the payment is due
Select the class – this will narrow done the list of students to only those enrolled in the class
Select the students in the class to be charged. Can be one, some or all. If selecting all, Click the box that says 'all pages'

Batch by Group

Select the income categories to be charged – can be one or many


Enter the start and end dates – the dates can be used to represent the time period being charged or it can simply be today's date
Enter the Due date – the date the payment is due
Select the Group – this will narrow done the list of students to only those in the group (groups are set up under

ADMIN

)
Select the students in the group to be charged. Can be one, some or all. If selecting all, Click the box that says 'all pages'