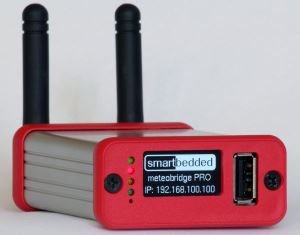 MeteoBridge support
Primary support for MeteoBridge is provided by the creator of the MB software in two main ways:
Detailed instructions for setting up and using MeteoBridge can be found in the wiki at the MeteoBridge home page . Please be sure to look specifically at the MB Pro sections of the wiki;
Any further questions can be asked on the MeteoBridge forum . The author is usually able to answer questions there within a day or so;
All support requests for MeteoBridge should be directed to one of the two resources noted above, But some further notes on MeteoBridge will soon be included below covering some issues that can crop up when setting up an MB unit for the first time. But you will need to refer to the wiki notes for more advanced information about how to configure uploads to weather networks, how to use Push Services etc.
If you're having problems getting a brand new MeteoBridge unit supplied by us to work correctly then please review the support resources provided here in the first place. If you cannot resolve these problems then please contact us.
Allowing remote access to an MB Pro unit
If there is an unusual issue that cannot easily be fixed via email contact then Meteobridge support may request remote access to your MB Pro unit. Please refer to the Remote Access topic in the Meteobridge forums for details of how this can be set up. But in brief the steps are:
Locate the Security area on the System tab of the MB Pro web interface;
Ensure that the checkbox against the setting that says 'Allow login from the Internet via this

URL

' is ticked;
Click on the 'This

URL

' link and copy/note the link that is returned. This will look something like: https://admin.meteobridge.com/77c3a8df2b04c89d4d74a043268d54a8 ;
Send a copy of this link and the password for your MB Pro unit to Meteobridge support on request;
This option need only remain ticked for as long as troubleshooting is actively under way;
Last modified:
2016/08/25