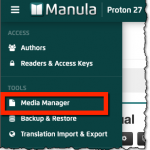 A few weeks ago, Manula user Joe asked:
Is there a way that you can access the library of images, videos and files etc…….. rather than having to access from a topic when inserting?
I would like to upload all the files, videos etc in advance so that I can use them across all the different topics if required. Or, if I need to replace an image, I don't want to have to go back into the topic editor to do so.
Excellent point, Joe!
So as of today, there is new Media Manager item in the menu, even at the account level, that lets you go straight to the Image, Video and Document managers: