Sign up for the 7-day free trial
Manula.com Terms and Conditions
Our Philosophy
Unlike most terms of service documents, this document is designed to be easy to read and understand. Our goal is to clarify what you can expect from Proton 27 when using Manula, and what we'll expect from you.

We'll be updating this in the future to make it better - if you notice something confusing, or something that bothers you about our policies, please feel free to contact us. We're always interested in improving.
Using Manula means accepting this document
By using Manula in any way you are agreeing to be bound by the following terms and conditions.
Breach of Terms
If you violate any of the terms in this document your account will be terminated. We may immediately deactivate your account and prevent access to all of your data on this site, including content that you have published for public use, without prior notice or liability to you. This has never happened, and we hope it stays that way.
If you think we removed your access by mistake get in touch and we'll give you our reasoning. We also have a quick way to restore your data.
Registration Data and Privacy
To access Manula you will be required to register an account and password. You must provide your legal full name, a valid email address, and any other information requested in order to complete the registration process. The information we obtain through your use of Manula, including your registration data, is subject to our Privacy Policy.
Security and Password
It is your sole responsibility to maintain the confidentiality of your password and account. If you forget your password we will send you a link to let you reset it.

Your author account (in other words, login) may only be used by one person - a single author account shared by multiple people is not permitted. Depending on your subscription level, you may create separate author accounts for other people. You may not transfer your account to anyone else. We reserve the right to immediately terminate your account if you do transfer or share your author account.
Warranties and Disclaimers
The Manula service is provided by Proton 27 on an "as is" and "as available" basis. We do not guarantee and are not liable for any failure to access or store your data on Manula at any time. Like all cloud-based applications, we are vulnerable to the inherent unreliability of the internet.
However, we do pride ourselves on reliability. We use Pair Networks for our technical infrastructure, which is robust, redundant, and reliable. We also using Pingdom to monitor the status of Manula closely so that we can take prompt action in the case of an outage.
You can see for yourself how we're doing with this chart: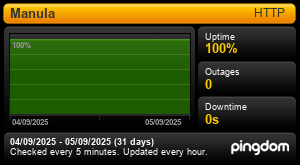 Support
The best way to get support for Manula is through our Contact form. This will provide the fastest way to resolve any issues you may have.
User Content: Responsibility and Ownership
You are responsible for all content posted and activity that occurs under your account. This means that you need to ensure that all of the content posted on Manula complies with all applicable laws and regulations, including (but not limited to) U.S. copyright law. Proton 27 does not prescreen content to ensure compliance, but we do have the right (but not the obligation) to refuse or remove any content that is available via the service, at our sole discretion.
Warranties and Disclaimers
The Manula service is provided on an "as is" and "as available" basis without warranty of any kind, either express or implied, including, but not limited to, the implied warranties of merchantability or fitness for a particular purpose. Without limiting the foregoing, we make no warranty that:
The service will meet your specific requirements
The service will be uninterrupted, timely, secure, or error-free
The results that may be obtained from the use of the service will be effective, accurate, or reliable
The quality of the service or materials purchased by you will meet your expectations or be free from mistakes, errors, or defects
Any errors or defects in the service will be corrected
The Manula service could include technical or other mistakes, inaccuracies, or typographical errors. We may make changes to the materials and services, including the prices and descriptions of any software or products listed, at any time without notice. The Manula service and Proton 27 materials may be out of date, and we make no commitment to update such materials or services.
The use of the Manula service, Proton 27 materials, or downloading of any materials through this site is done at your own discretion and risk and you agree that you will be solely responsible for any damage to your computer system or loss of data that results from such activities.
Some states or jurisdictions do not allow the exclusion of certain warranties, so some of the above limitations may not apply to you.
Refund Policy
Manula is either billed in advance on a monthly or yearly basis. It can be cancelled at anytime. When paid on a monthly basis, there will be no refunds or credits for partial months of service. When paid in advance for a year, remaining full months after the moment of cancellation will be refunded.
Cancellation and Termination
You are solely responsible for properly canceling your account. An email or phone request to cancel your account is not considered cancellation. You can cancel your account at any time through your Manula Account page. When logged in, use the Account link at the top of the screen.
If you cancel your account Proton 27 will maintain your content for one month, so if you reactivate your account your content will be as you left it. The one exception is your publicly published content, which is automatically unpublished when your account is canceled so that no one can access your public content. You may publish that content to make it public again. Proton 27 may but is not obligated to delete all of your content one month after your account is canceled.
If you cancel your account before the end of your current paid up month, your termination will take effect immediately and you will not be charged again.
Proton 27 may, at our sole discretion, terminate or suspend your access to all or part of Manula without prior notice or liability to you.
Governing Law and Jurisdiction
The Manula service (excluding any linked sites) is controlled by us from our offices in Amsterdam, the Netherlands. It can be accessed from all over the world, including all 50 states of the US. As each of these places has laws that may differ from those of the Netherlands, by accessing Manula you agree that all matters related to the use of Manula shall be governed by the statutes and laws of the Netherlands, without regard to the conflicts of laws principles thereof.
You also agree and hereby submit to the exclusive personal jurisdiction and venue any court of competent jurisdiction within the Netherlands with respect to such matters.
General
These terms constitute the entire agreement between you and Proton 27 with respect to your access and use of Manula, superseding any prior agreements between us (including any prior versions of these terms).
The failure of Proton 27 to enforce or exercise any right or provision of these terms of service shall not constitute a waiver of that right or provision.