The Exam Equivalency Guide (EEG) helps students understand how exam scores may translate into college credit in four testing programs: Advanced Placement (AP); International Baccalaureate (IB); College Level Examination Program (CLEP), DANTES Subject Standardized Tests (DSST), and Cambridge International Examinations (CIE). The exam matrices reflect the credit awarded by each of the colleges and universities.
To find the Exam Equivalency Guide, please follow the steps below….
AZTransfer.com ⇒ Tools ⇒ Exam Equivalency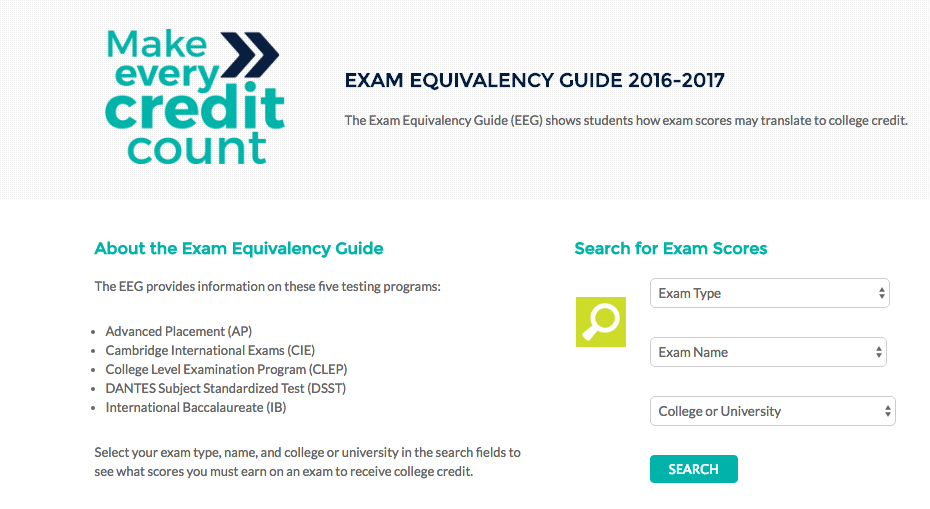 Note: The Exam Equivalency allows High School and Community College students to look up Credit by Exams and will display what score is needed to ensure college credit is received.
Steps to Use the Exam Equivalency

Simply select on the desired exam type. (For example: Advance Placement (AP)
Then choose the exam name. (For example: Spanish Language)
You may select your college or leave the field blank to see results for all schools. (For example:

ASU

)
Note: If you see NA (not applicable) for a given score, please contact an academic advisor or counselor at the college for the latest information about the equivalency for a particular exam.
Select Search



Once you click search, the Exam Equivalency will be displayed…

You may also be interested in…


Feedback
Thanks for your feedback.