Students who complete an
AAS
(Associate of Applied Science) degree from a regionally accredited U.S. postsecondary educational institution are eligible to pursue a
BAS
(Bachelor of Applied Science) program at an Arizona public university offering the degree. Generally, a student who has completed an
AAS
degree will receive at least 60 credit hours applied toward the
BAS
degree. Students should explore the range of
BAS
concentrations/specializations available and the admission criteria at each university to identify programs compatible with their
AAS
degrees. The
BAS
is designed specifically for students who have completed
AAS
degrees. Students admitted to the university having completed other types of Associate degrees may be admitted to the
BAS
program at the discretion of the admitting institution, pending an evaluation of the degree curriculum in relation to
BAS
requirements.
To find the AAS to BAS pathway, please follow the steps below….
AZTransfer.com ⇒ Transfer Options ⇒ Associates Degree ⇒ AAS to BAS
Scroll down to the bottom of the Associates Degree page and click on Learn More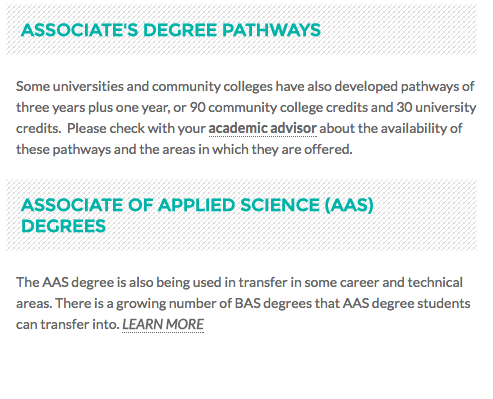 Now, all the AAS to BAS pathways will be displayed…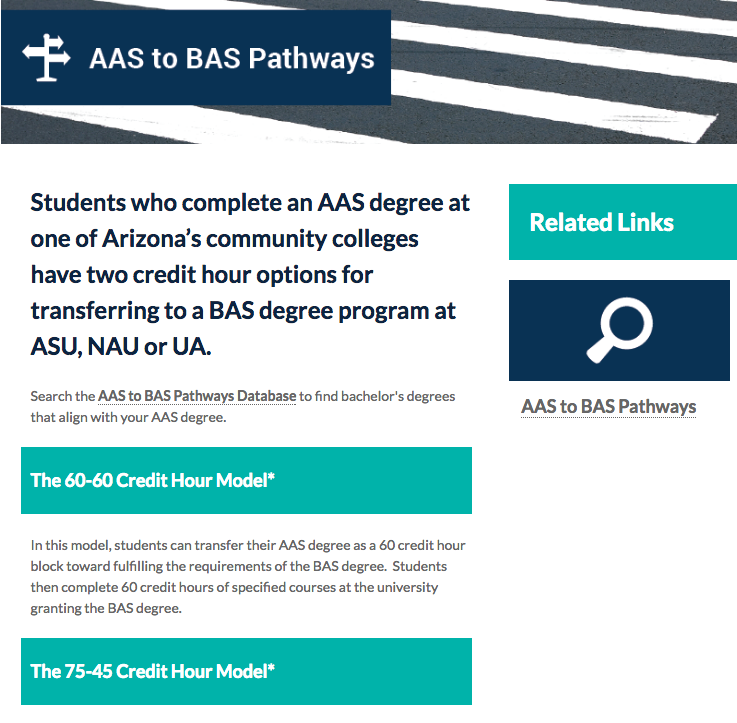 Feedback
Thanks for your feedback.