The Course Equivalency Guide (CEG) indicates how Arizona State University, Northern Arizona University, and the University of Arizona accept transfer coursework (courses numbered 100 to 299) from Arizona public community colleges. The CEG includes the course evaluation by each Arizona public university, which reflects how the universities accept the course credit. Additionally, the CEG identifies courses that fulfill Arizona General Education (AGEC) requirements, are available for dual enrollment, are Shared Unique Number (SUN) courses, and/or are eligible for credit by exam with icons representing these designations.
To find the Course Equivalency Guide:
AZTransfer.com ⇒ Tools ⇒ Course Equivalency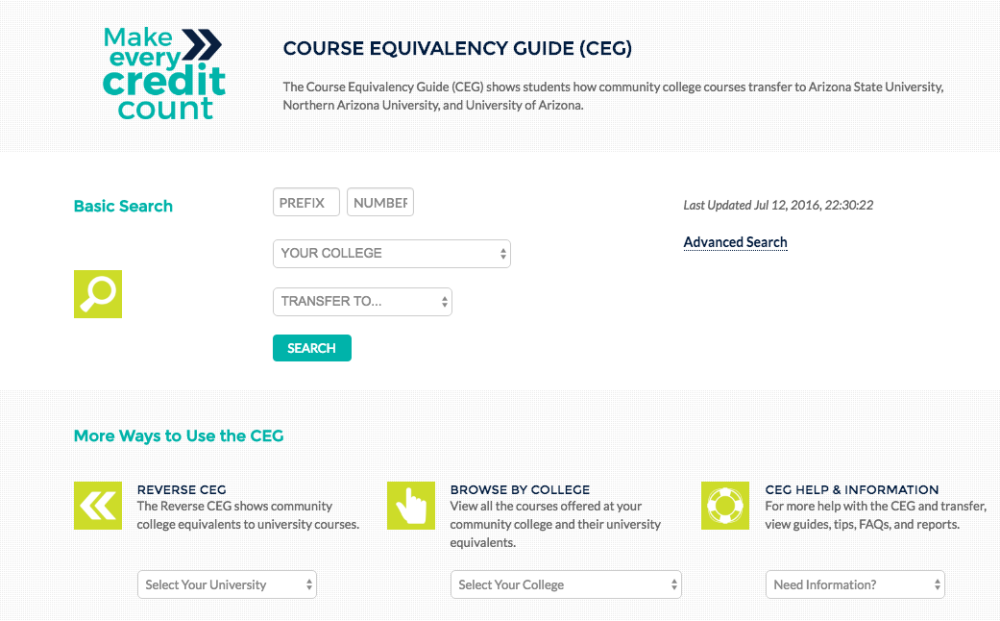 You can also find Reverse CEG, Browse by College and CEG Help and Information.
Steps to use the Course Equivalency Guide

Input Course information into the Prefix and Number. (For example:

AJS

201)
Select College where the course was/will be completed. (For example: Arizona Western College)
Select where you would like the course transferred too. (For example: Show all University)
Select Search


Once you hit search, the course equivalency guide will display how the selected course will transfer to one of the three state universities.

Feedback
Thanks for your feedback.