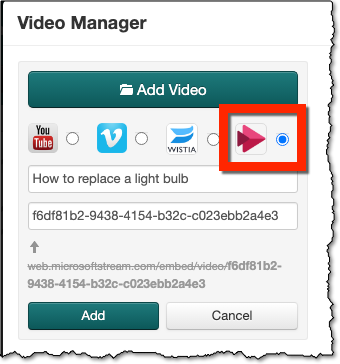 Next to Youtube, Vimeo and Wistia, we have now added a fourth source to embed videos from : Microsoft Stream Video.
In the Video Manager, add videos from Microsoft Stream Video by entering their ID.
When inserting the video into your topics, it fully support the Autoplay and Start Timestamp options.
Please note that Microsoft Stream Video does not support Public videos. The videos, even when embedded in your manual, can only be accessed by users who are logged in to the same Microsoft business account.
This means that using Microsoft Stream videos is really only useful for internal manuals, to be used within your company.