Diabetes:M can receive data from Bluetooth glucose meters.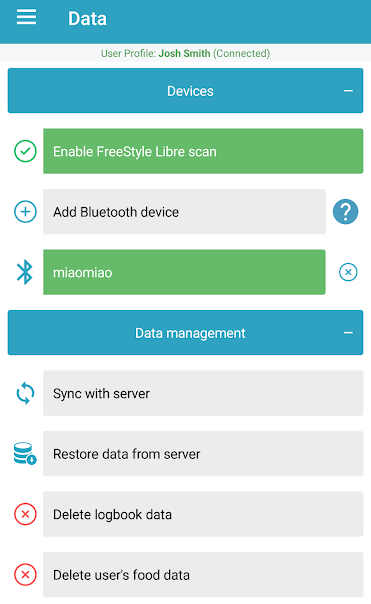 Supported meters
For now the supported glucose meters are:
Contour® Next One
Accu-Chek® Aviva Connect
Accu-Chek® Guide
Accu-Chek® Instant
OneTouch Verio Flex®
CareSens™ N Premier
CareSens™ Dual
One Drop™
Nipro 4SURE™ Smart
Nipro 4SURE™ Smart Duo
Nipro

TRUE

METRIX

™

AIR

Publix

TRUE

METRIX

®

AIR

ReliOn™
Diabetes:M also supports Freestyle Libre transmitters (ANDROID ONLY):

MiaoMiao – https://miaomiao.cool/
Ambrosia's Blucon – https://www.ambrosiasys.com/


A bluetooth glucose meter or Libre transmitter can be added by going to Data -> Devices -> Add Bluetooth device
For more information about Miaomiao and Blucon's features, please go to CGM Features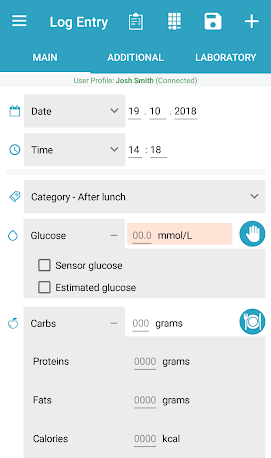 Receiving data from bluetooth glucose meters
When your glucose meter is paired with Diabetes:M, it will receive every new glucose value when you do a finger prick. It will not receive the glucose meter's history (for now). There are a few things that you can do with a paired glucose meter:
Finger prick with the app running or in the background – Diabetes:M will receive the glucose value and will save it in the logbook. The entry will also have the glucose meter's name in the notes field.
Make a finger prick with an opened new entry screen – if you make a finger prick when the new entry screen is opened, the red glucose field will flash a few times and will get filled with the value received from the glucose meter
Make a finger prick with an opened calculator – the red glucose field will flash and will be filled with the received glucose value
Last modified:
2019/05/15
Thanks for your feedback.