Not every school will have this feature.
If you have a membership with the CompuDance system, you can save a payment account on file for the studio or yourself to use for future use.
If your studio uses autopay once your account is saved, they will be able to draft against this account. Please check the Studio Terms & Conditions.
If you wish to pay with this account, you can in Make a payment.
Some studios will allow credit card accounts and/or ACH (checking account) withdrawals. If they allow you to choose, you will see both option tabs. Otherwise you will see only the type they accept.
The studio could also only select certain types of credit cards. Most who accept credit cards will accept Master Card and Visa. Discover and American Express will be optional to each school.
If you click Update but your account page does not show an account with ** the account did not save.

If you see information with *** entered in the fields, you have an auto-pay account saved. You may edit the account, but are not able to delete the account. This information is not stored in CompuDance by actually in the vault of the payment processor. Contact your studio to remove the account.
If you are entering an ACH account please refer to the image below to get the proper numbers for entry.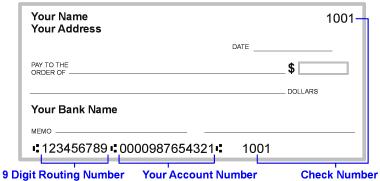 When entering a credit card account, you must select a card type, enter the name on the card, the card number, the expiration month and year, and the CVV number on the back of the card.
This image may help you locate the CVV.