You can pay invoices online
You can click on Make a Payment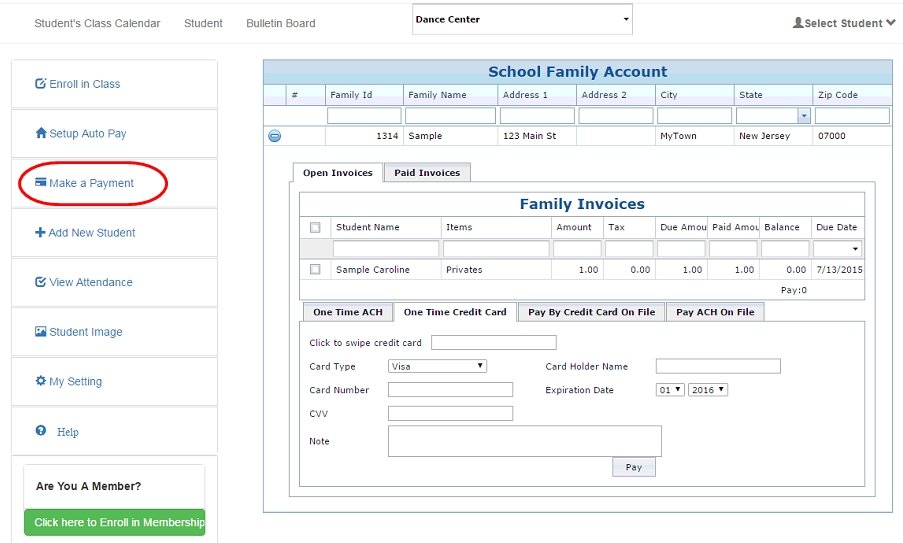 You need to check off the invoices you wish to pay. You may choose more than one, or click the top left checkbox to select all.
You are not allowed to make a partial payment but will need to pay the balance of the invoices selected. If you would like to pay only part of an invoice, please contact the studio.
Then choose how you're making the payment.


One Time

ACH

– This option will allow you to make a payment with a withdrawal from a checking account without saving the payment information on account.
One Time Credit Card – This option lets you make a payment with a credit card, without saving the payment information on file.
Pay By Credit Card on file- If you have a credit card on file, you can use it without re-entering the card information.
Pay by

ACH

on File- If you have an

ACH

account on file (checking account) you may process the payment without re-entering the information.


In each Pay option you must enter all of the information being prompted.
The Notes field is optional.
Then Click Pay.
You will be asked to confirm If you wish to pay.
Click OK to proceed. Cancel to stop payment.
If the payment is successful the invoice(s) will move from the Open Invoices tab to the Paid invoices tab.
ACH

Payment

If you are entering in ACH information, you can use the check image below to retrieve the appropriate numbers.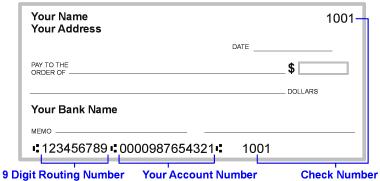 You must populate all of the fields in the tab.
When you click Pay, the system will ask you to confirm if you want to pay. Click Yes.
If the payment has begun processing, the invoices you had selected for payment will now move to the Paid Invoice tab.
Credit Card Payment
When entering a credit card payment, you must select a card type, enter the name on the card, the card number, the expiration month and year, and the CVV number on the back of the card.
This image may help you locate the CVV.