Adding a Contact
Click on the + at the top of the Contacts column on the Dashboard or from the Contacts List and a new contact is created and ready to edit.
Begin adding your contact information. To add a photo simply click on the photo area and choose a picture from your Photos or any file you have on your Mac or drag and drop from iPhoto. You can add the contact to an Orbit by clicking on the Orbit name. A ✓ is added to confirm you have added the contact to the Orbit.
When you add a phone you can change the type by clicking on the field label and choosing from the drop-down options. The phone number will auto format according to the country on the contact record when you save the contact.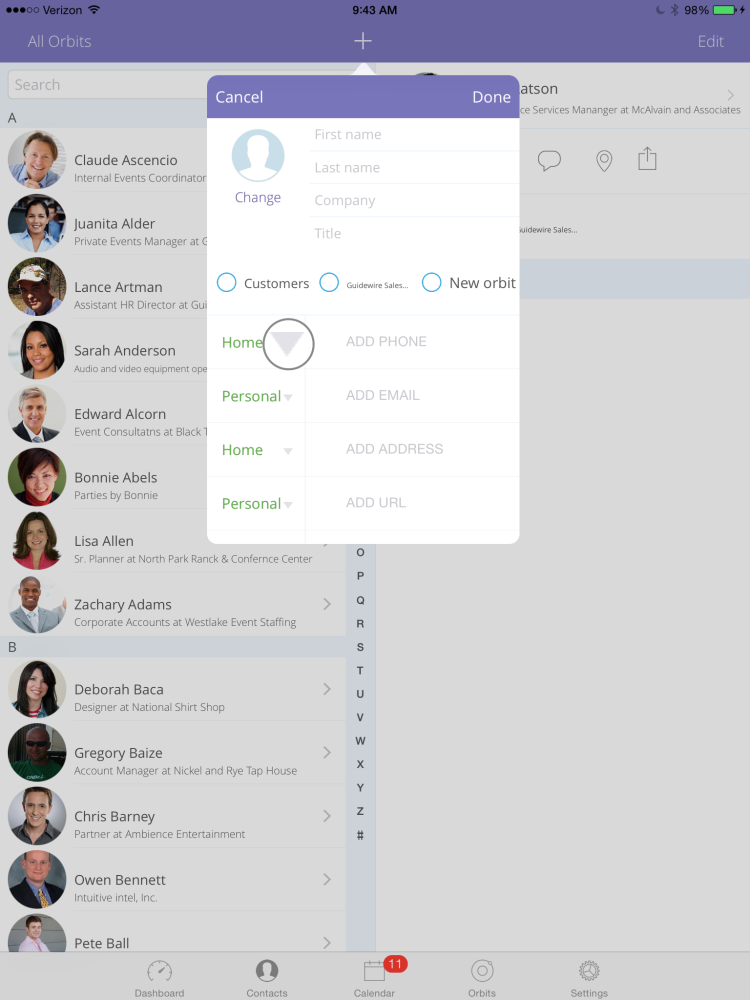 Street addresses are easily added using the auto-locator feature. First choose the address type then start typing the address and auto-locate will begin searching for matching addresses nearest your current location. Continue typing until the address you want to add appears in the selection list. Click the correct address and Done to add it to the field.
Now add any custom field data either manually or using the picklist.
You may want to add some vipLinks. Click on the list icon to see a list of all of your contacts and click to choose them. Click anywhere where you are done to close the contact chooser.
The last step is click Save and you new contact now appears in the Contacts List.
Editing a Contact
Clicking Edit allows you to edit any of the contact information, add the contact to an orbit or add vipLinks.
Feedback
Thanks for your feedback.