The "Calls Mins Results" button brings up a chart showing the count of calls, average call length, and the result score for each number you've selected. Here's an example: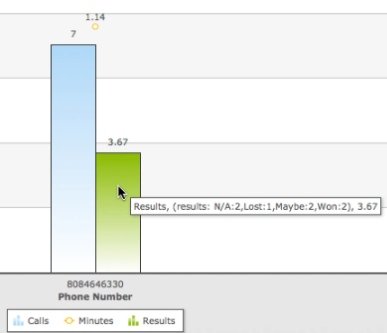 When you hover over the Results value, the tool-tip pops up showing the results that went into the calculation. In this example, there were a total of 7 calls. The results were:

N/A: 2 calls (no result was posted)
Lost: 1
Maybe: 2
Won: 2


The system scores results as follows:

N/A: 0
Lost: 1
Maybe: 2
Won: 3


TrackMyAd™ adds up the total points and calculates that as a percentage of the maximum possible, and shows that percentage of the total number of calls. So you can easily compare the two bars for Calls and Results and see how well this ad is performing for you.