Customer Requirements
NB: Only required by customers using Telstra TIPT
Overview
The Periscope server will receive incoming connection from the TIPT RTB Services via TCP 443. As an overview please see the diagram below:

Install Web Server Certificate
Purchase and install Web server certificate for Periscope computer. The certificate has to be bound to the fully qualified domain name (FQDN) of the computer on the Internet. Normally it will be rtb.company.com.au
Public Routable IP Address
Telstra requires rtb.company.com.au to resolve to a public, routable IP address (likely the public facing interface of your corporate firewall).
Configure firewall
Periscope computer must be able to accept incoming connections on TCP port 443 (HTTPS) from the Internet, i.e. your corporate firewall will have to port forward incoming connections on TCP port 443 to Periscope computer on its Internet facing interface.
IP address range required on the firewall:
| | |
| --- | --- |
| CVT | 115.70.227.49 |
| CVT | 103.31.115.130 |
| TIPT | 144.140.58.164 |
| TIPT | 144.140.58.165 |
| TIPT | 144.140.224.40 |
| TIPT | 144.140.218.104 |
| TIPT | 144.140.224.53 |
| TIPT | 144.140.218.120 |
NB: CVT IP Addresses are required for setup and troubleshooting.
Testing
If the following are installed and configured properly, you should be able to browse to https://rtb.company.com.au/TIPTReceiver/ReceiverServiceTIPT.svc and verify the SSL certificate:

SSL

Certificate Installed properly
Public

DNS

pointing rtb.company.com.au to the server
Firewall configured for inbound connection from IP address range.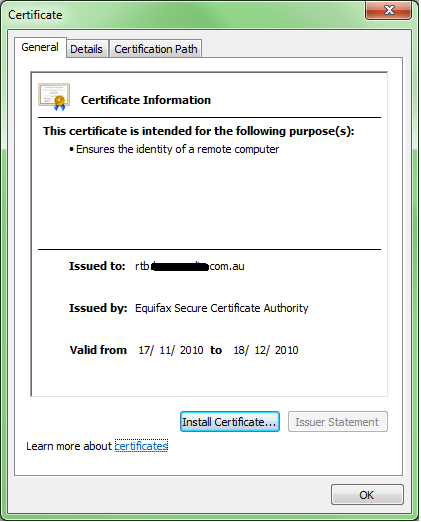 And under IIS log folder C:\inetpub\logs\LogFiles you will be able to see connection attempts from Telstra client.
Trouble Shooting
To test the connection from a public computer to the server, please use nslookup and telnet on port 443 (as per screenshot below). If the server is not found, please check that the public dns records point to the server.

Thanks for your feedback.