In order to receive the full benefit of salon, we encourage you to set up media (optional) first. The setting up of a media includes following optional activities.
1. ADD TAGS – Tags allow users to classify/categorize annotations. Tags can be used to filter annotations for any category. Tags are optional for any post. A root comment tag(s) become the tag(s) for the entire thread.
2. ADD QUESTIONS – You can add one or more questions to each course media. The questions are only essay type, but can have an expert answer and are self graded by the user. Instructors also can assign points to each answer.
3. INDIVIDUAL/GROUP VIEW MODE – A media can be set up for individual or group annotations. A media item set up for individual annotations will only display the logged in user's annotations. A media item set up for group annotations (default) will display all user annotations. This feature can be used to encourage students to read on their own first before seeing others annotations.
MEDIA MANAGER
The setting up of each media item and its management is controlled by media manager. Media manager is accessible only to the user who uploaded the document into salon. That can be an instructor or student. There are two ways to access media manager, from Repository or from Salon home page.
1. REPOSITORY
Go to your repository and click on the media manager as shown below.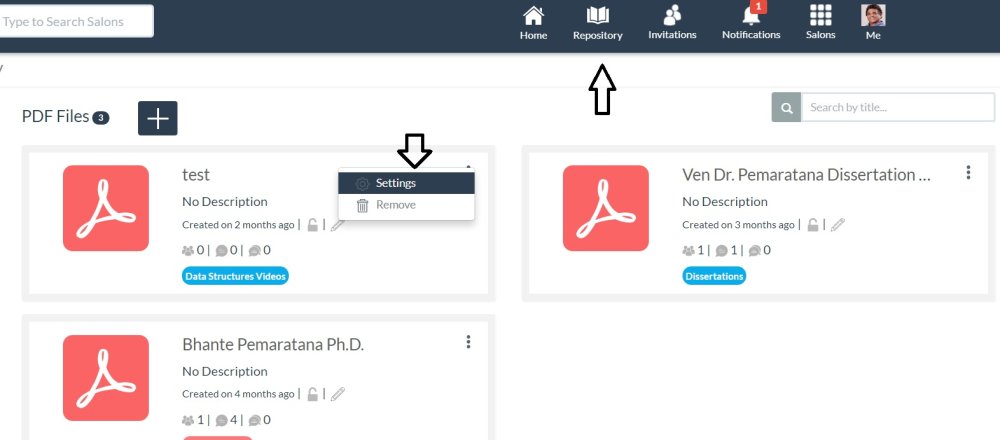 Click on settings icon to access all data associated with each media item.



Assign – assign this media item to a specific salon
About – set up document title and description. Default tab for document display is comment tab. But you can also open the document with summary or question tab.
Tags – enter tags that you would encourage the use of. when commenting on media. Tags can be added and removed any time. If you have salon level global tags, then all those tags are automatically included in the tag list
Questions – add questions for users to respond to based on this media. Questions have the following – question text, answer text, hint, explanation for the answer, self grading options
Mode – allows you to set the media for individual or group view.
2. SALON PAGE
Go to Salon page and click on the "All Media" and then the "three dots" on the right to access media manager. Follow the steps as given above


Feedback
Thanks for your feedback.