In most cases, it is beneficial to integrate salon with a course management system (like canvas), so students can go to one place to start navigating the course. If you are using Canvas as your course management system, please follow the instructions below.
IMPORTANT: Do not create a Salon from Classroom Salon if you are going to integrate salon and canvas. Canvas will automatically create a salon for you.
Here are the steps
1. Create or request a Canvas course
2. Go to your canvas course.
3. Click "Settings" tab in left side menu.
4. Click "Apps" tab in upper tab list.
5. Click "View App Configurations" button in middle right corner.
6. Click "+App" Button.
7. Select "Configuration Type" as "By URL".
8. Place an appropriate name in Name box (we suggest: classroom salon).
9. Place given Consumer Key (see below)
10. Place the Shared Secret (see below)
11. Paste given Connected URL in Config URL box.
12. refresh the browser page to see the external app called "classroom salon" on the left side.
Connected/configure URL
https://developer.classroomsalon.com/ltiDemo_cartridge.xml
Consumer Key DYqvMzrc2NpYWaqyG9KVZatnAwBYAqn1ctcoYkBWA2p2fIYX9VM5DPBRGqVmiN1B
Shared Secret: 7~AsfGK2nYTJiBjXkMTnZ6bIa8PbzjLoEzigfK3v2DpFt22LPo8UrRCfdPyiC4LSov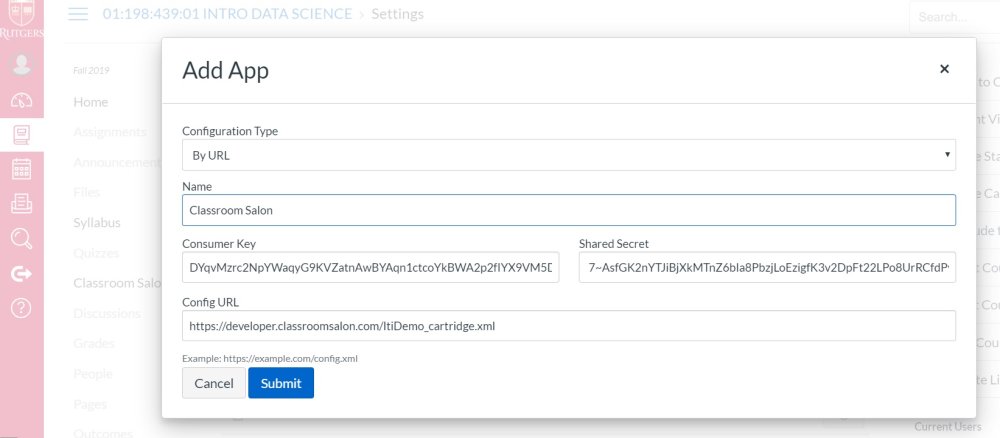 In the Canvas instructor view, refresh the screen and when you click on "Classroom Salon" on the left side menu, you should see an introductory
video and underneath "Upload Media". Click on that and you will be automatically placed in a salon created for the course. Your students are already enrolled in salon as well.
There is no need for students to create new salon accounts, and they access salon via canvas.
See Salon Settings to change your new salon settings.
Here are the screens you should see as an instructor (after students start viewing media)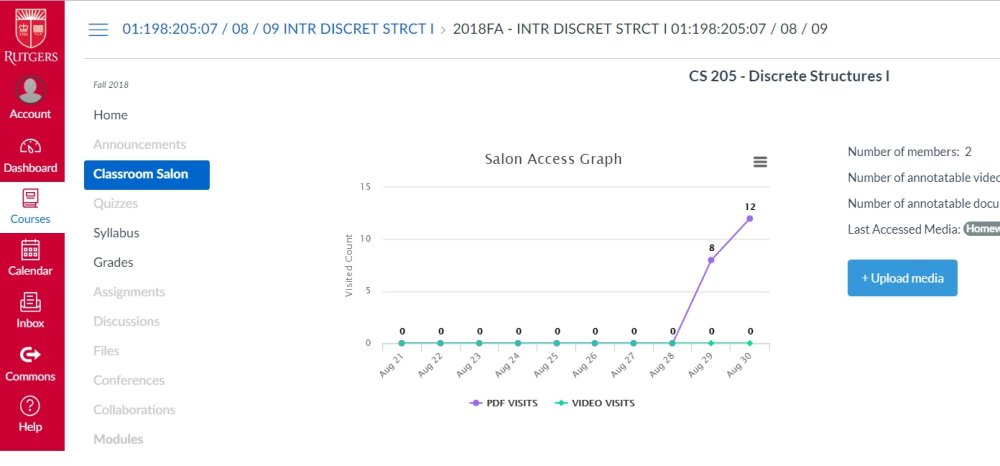 To visit the salon, click on Upload Media
Here are the screens you should see as a student


Student access salon from canvas. There is no need to have a separate password to login
The last updated media are displayed in canvas (click will open the media) and student can click on view all media to go to salon..
please send email to support@classroomsalon.com
Feedback
Thanks for your feedback.