ZL SHOW MODE when turned OFF shuffles only on the Selected Group and Pattern within that Group.
When turned ON allows you to setup options on how to shuffle the groups.
It is also used to shuffle your presets and to Save/Delete your favorite patterns Slots(25)
Shuffle 1 Group or All Groups or Randomly
From Standby Mode Press ZL Show button to enter the mode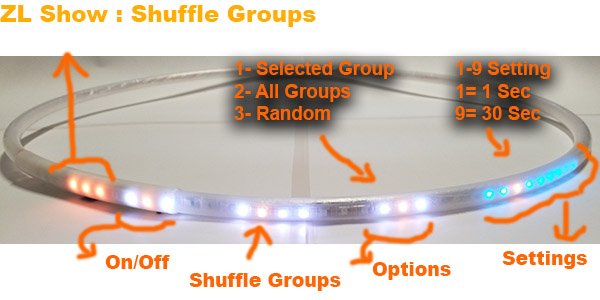 If the Mode is turned Off, hoop will shuffle only on Single Selected Group and Selected Pattern in Group
To turn it off Press the ZL Show button again.
To change Options From 1 to 3 use the Arrow Left/Right
To change Settings Use Numeric Keypad 1 through 9
Then Press OK to Return Back to Standby Mode, Notice 3 Orange Pixels next to Serial Number
If ON then you are in Group Shuffle Mode, if off then you are in Single Group, Single Pattern Shuffle Mode.
If PINK you are in User Preset Shuffle
To turn it on Press ZL Show Again or P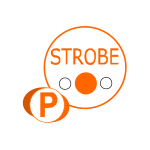 Note: P is a toggle button Option between User Presets and Pattern Shuffle
IF LED Selection is as above in picture you are in Pattern Shuffle Setup
IF LED Selection is PINK as Below you are in User Preset Shuffle as shown below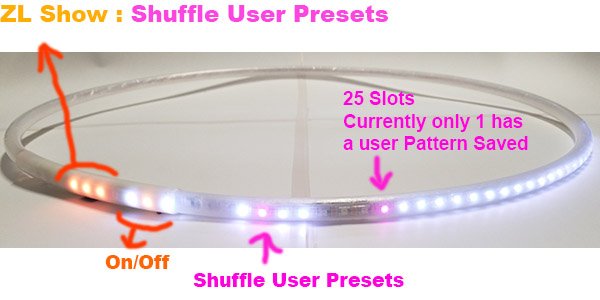 SAVE Favorite Pattern Into Slot
1. Press ZL Show to Enter Mode
2. Turn OFF the Mode to make sure you are shuffling only on 1 Pattern
3. Return to Standby Mode, Press OK
4. Star To Shuffle to make sure this the pattern you wish to Save. Note: ZL Hoop Saves the Pattern and All the Settings into each Slot
5. *Press ZL Show *
6. Press the Heart Button Plus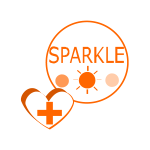 7. Use Arrows Left/Right to Select an empty Slot or Slot that has Pattern
Note: White LEDS indicate Empty Slots, Orange Indicate Slots that have a Pattern Saved, Green is your Pointer to Select Slot
8. Press OK, this will return to Standby Mode and save your Pattern
9. To shuffle your presets look above at Shuffle User Presets.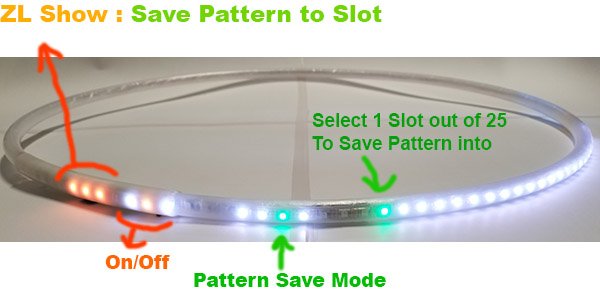 DELETE Pattern From Slot
1. Press ZL Show to Enter Mode
2. Press the Heart Button Minus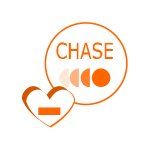 3. Select Slot to Delete by using Left/Right Arrows, Only Slot with Pixels Indicated in Orange have a Saved Pattern
4. Press OK to return to Standby Mode, This deleted the Slot and turned pixel into White as empty Slot.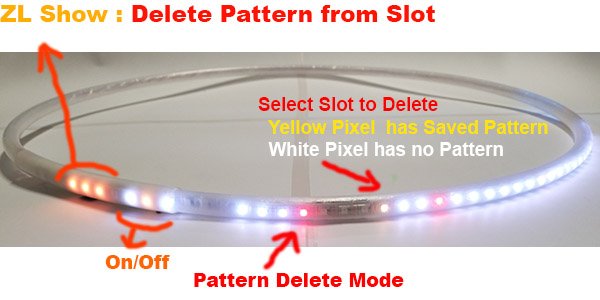 Thanks for your feedback.