Almost one year in the making (Released November 2017), borrowed some features of the original ZL Hoop, gave some of its awesomeness to ZL Hoop Gen 2 (summer of 2017) and continued on it's journey to greatness! Hand made with love, passion, determination and continued commitment to push the technology to it's limits, bring innovation to each iteration and follow our vision to produce a product that is unique and different than what has been the norm in the industry. 
The ZL Pandora is entirely designed, hand build and assembled in house from beginning to end in Marietta, Georgia, USA.
When designing the ZL Pandora 5/8, we wanted to strip it down of any unnecessary bloating, gadgets like joysticks, additional sensors, and other pieces, but rather put all the focus on the software and make sure all the features are functional and produce mesmerizing visual effects, using the LEDS as user display, using the remote to configure hoop and much more. We always thought this is the point of having a Smart LED Hoop. Not only you have lots of patterns but each is like a template and can be independently configured. Not only can you select dimness at the strip level but each pattern uses different levels of dimness to also add depth. Every mode is rich with additional options and settings making the Smart Hoop completely customizable to your preference, making each pattern completely customizable and that using only the remote.
To Reproduce a single pattern and all it's combinations on an image upload hoop, it would require a truck load of Smart Hoops and still it would not be able to produce triple layer motions!
As for the weight we got inspired by super cars and quickly realized that to produce high performance, everything has to go, choice of materials need to be light weight. If a small battery weighs ~0.3 oz having over 4 already adds 1+ oz to the weight. This is how we achieved to push down the weight to almost the same as a day hoop. Using 5/8 vs 3/4 this removes yet an additional ~3 oz off the weight. Step by Step we redesigned multiple times until we reduced every possible piece of the hoop, down to every screw and connection.
Weighs only ~2.5 oz more than day hoop
Double Density LEDS
Removable Battery
Seamless Connection
1600 + Smart Unique Patterns giving you, Millions of combinations
Independent Triple Layers (Motion Backgrounds, 1600 Patterns, Motion Foreground)
Add on SFX to all patterns Fades, Strobes, Backgrounds, Overlays each with multiple options and settings
1 Year Warranty
Perfectly Balanced
The ZL Pandora also comes with a Triple Layer Technology, allowing you to run 3 independent Layers 1 on top of each other. This produces magical special effects on top of the 1600 Smart Unique Patterns.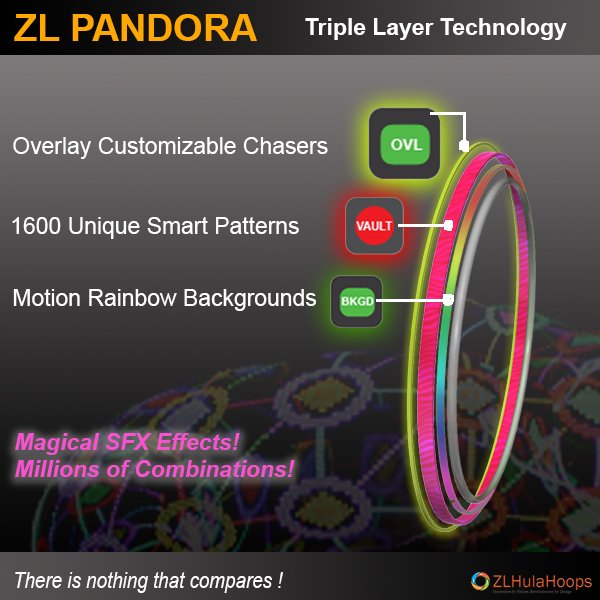 ALL

THIS

PACKED

INTO

A 5/8 Smart Hoop!
Thanks for your feedback.