To adapt the settings, click on your name and choose Settings option from the menu in right upper corner of main screen.

Set preffered values, then tap Save settings.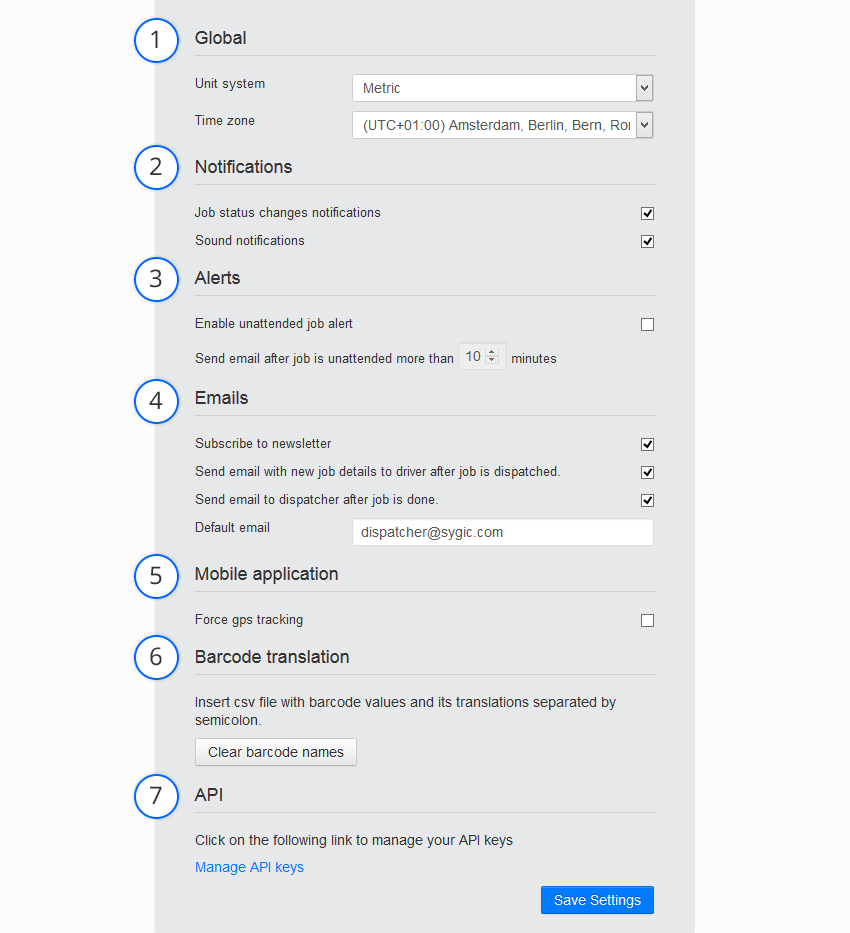 1. Global settings
Choose between metric and imperial unit systems to get information in Kilometers or Miles. Correct time zone is necessary for displaying correct time in jobs, especially when working in different time zones.
2. Notifications
Delayed job notifications are shown on the top bar. You can choose to be notified also on job status changes. In addition, a sound can be played when a notification is displayed.
3. Alerts
If a job is not accepted for defined time period, an alert for dispatcher will be sent.
4. Emails
Driver may receive email with all job details when job is dispatched to him. On the other hand, dispatcher may receive an email with job details after job has been finished. You may set the default email address for notifications
5. Mobile application
Force GPS tracking: if you choose this option, drivers will not be allowed to turn off their location tracking in Sygic FleetWork mobile client.
6. Barcode translation
If you use report barcode jobs, you may import a csv with barcodes and their translations, so that you and the driver won't need to work with number codes but product names instead. You can find more information in Barcodes.
7. API
You need an API key to implement API functions. You can find more information in API.
Feedback
Thanks for your feedback.