Task order optimization saves time and reduces fuel costs.
To optimize tasks within your job, go to:
Jobs -> open an existing task or Create job -> if there are not enough tasks to optimize, add more tasks -> click Optimize -> select a method -> Apply optimization -> Save job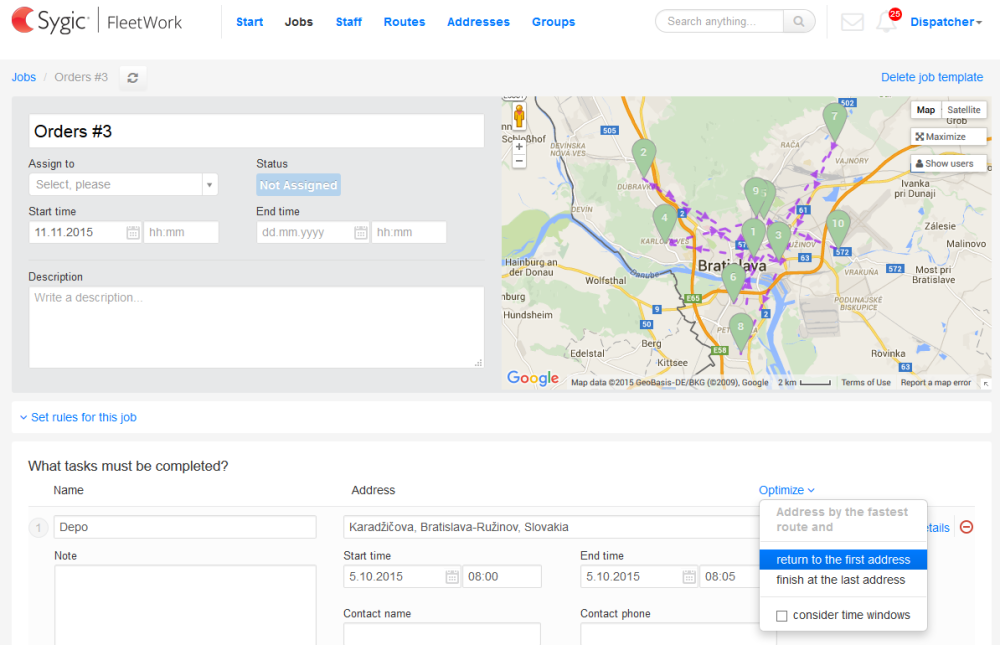 The optimization will re-order the tasks, so that the job requires less driving.
Optimization result will be shown before you finaly agree with optimization.

Optimization methods:
There are two optimization methods and an option to consider time windows:

Return to the first address – to finish the job, the driver needs to return to the location where they started. The tasks create a roundtrip. It can be used e.g. when a driver leaves from a warehouse and he musts come back at the end of the day.
Finish at the last address – simple shortest route from the first address to the last one
Consider time windows option – by checking this option also time windows will be taken into consideration when optimizing the route. Time windows imply at what time the tasks have to be executed. E.g. some customers are reachable in the morning, some later during the day.


Feedback
Thanks for your feedback.