Sygic FleetWork API allows you to connect your or third party systems to Sygic FleetWork. All functions may be used directly from your system as well as all information may be send back from Sygic FleetWork to your system. This way you can use your system instead of FleetWork web portal.
API

Key

To be able to integrate your system with FleetWork, you need to generate your own API key first. Once you have generated it, you can use the interactive help.

For any operation with API key, you have to be signed in to the Sygic FleetWork (https://www.fleetwork.com). If you don't have an account, you can create one for free.

To obtain your API key, go to:
Settings -> Manage API keys -> Create new API key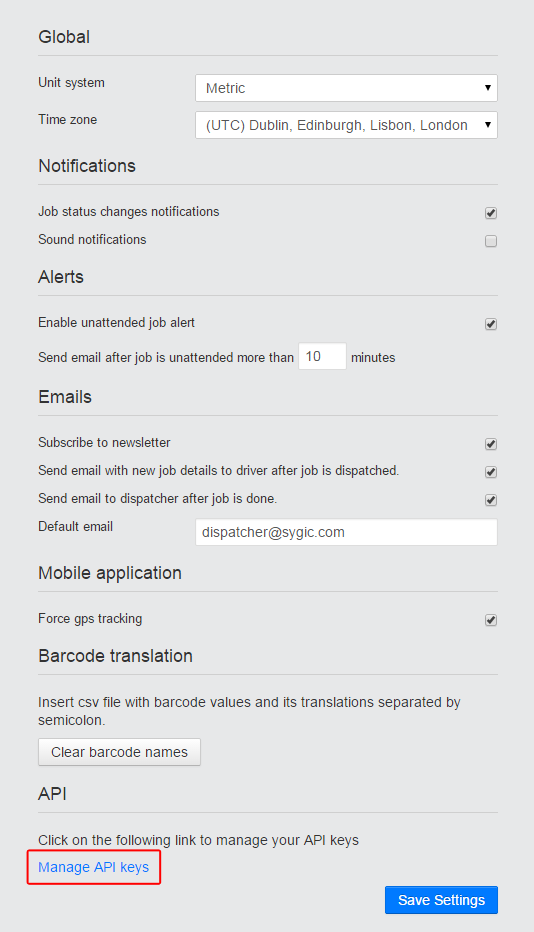 Your new API key is created. You might generate as many API keys as you like. Multiple API keys can be used e.g. to differentiate users who created the calls.
Click Try out next to the API key to open an interactive API documentation, where you can call all API methods.
To delete your API key press Delete API key button next to the key you want to delete.

API

interactive help

Purpose of this document is to navigate you to online interactive help, which describes all API features.

There are two ways to access the API interactive help:

Click Try out next to an

API

key
Click this link to open an interactive

API

documentation. In this case you need to paste your

API

key into the text box

API

key and click Explore to be able to try out the methods.



API

Call Sample

As an example call, we will use easy method for getting all drivers in your organization.
Paste your API key in Your API key field to be able to try the methods with your account data.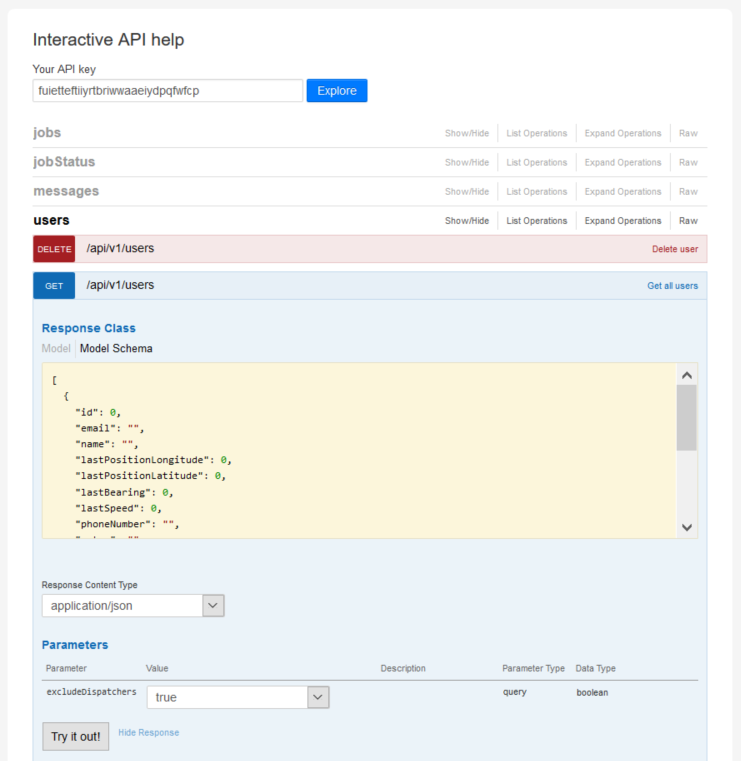 Click Try out, the result will appear: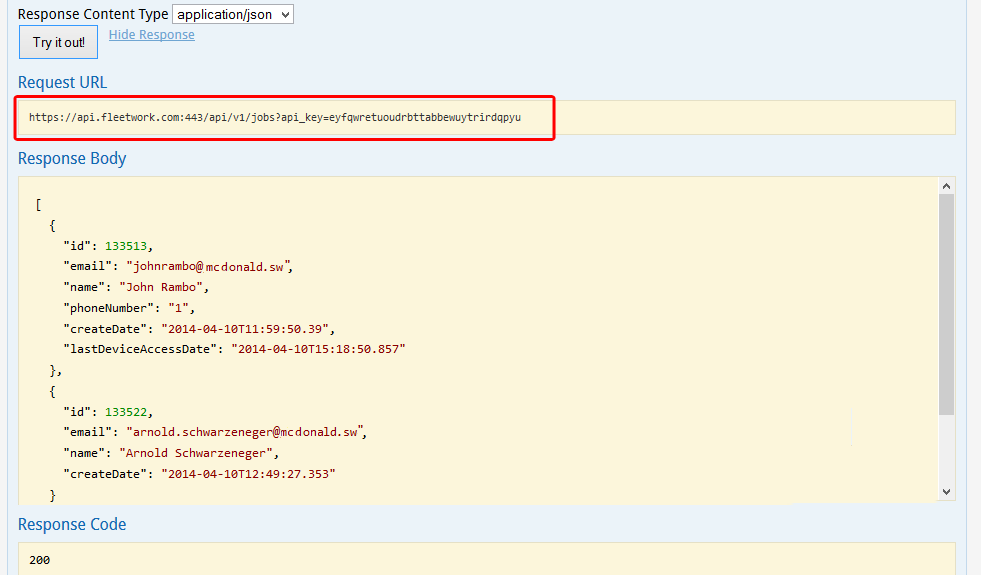 You can see Request URL. This is the URL you have to call from your application to obtain the result. As you can see, it contains your API key too.
Response Body is data you've requested in JSON format, in this case all drivers in your organization. Response code 200 means everything went fine. All response codes are described in a table below.
API

Calls and Responses
API

Calls

You may use 2 ways how to call API. Don't forget to use your API key.
HTTP

HEADER

: "X-api_key":"[your

API

key]"
https://api.jobdispatch.sygic.com/api/v1/

API

_method?api_key=your

API

key
API

Responses

Response consists of Response body, Response code and Response Headers.

Response Body is usually data you requested in

JSON

format.
Response Code tells you whether your

API

call was sucessful and what went wrong.
Response Header defines the format of the data.


Response Codes
We use several http status codes as a result of your call
Response code
Meaning
200
OK – Everything is OK.
204
OK – Everything is OK . Server is not sending any data. This is response is used after deleting an entity.
400
BadRequest – Invalid input or no

API

key inserted.
401
Unauthorized – Wrong

API

key or you are not authorized to use

API

.
404
NotFound – Entity wasn't found.
Feedback
Thanks for your feedback.