To set your destination by entering its address select
Main menu >

Navigate to >

Address or Zip code.
Next, you will be asked to select Country, City, Street and House number or Street crossing. Enter the required names and numbers.
Alternatively, just enter the first few letters of the city/street name to see a list of similar names.
The list also features explanatory icons left to the city/street name:


City


Capital city


Village


City center


Street


Street crossing
Select the desired city/street from the list.
When finished, a Confirmation Screen pops up showing the address entered.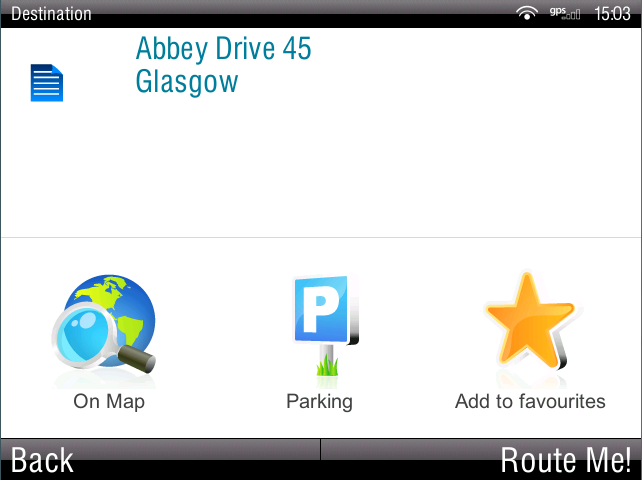 Before routing to your destination, you can display the exact location of the address on map by tapping "On Map".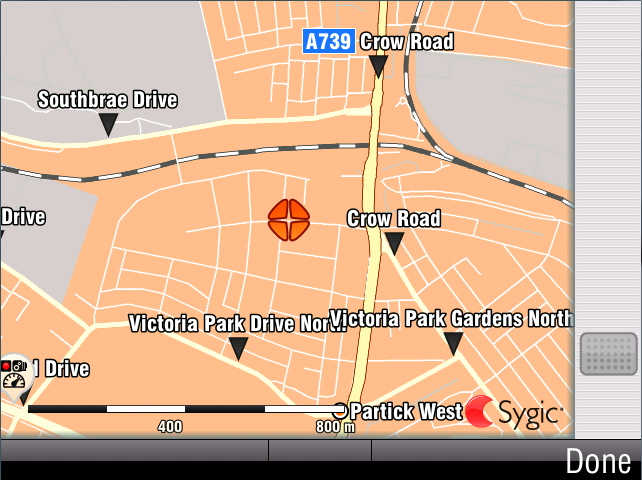 You can also store the location as a favourite destination by tapping on "Add to favourites" (see section Navigating to Favourite Destinations").
If you would rather be directed to a parking nearby, tap "Parking" and select from the list shown.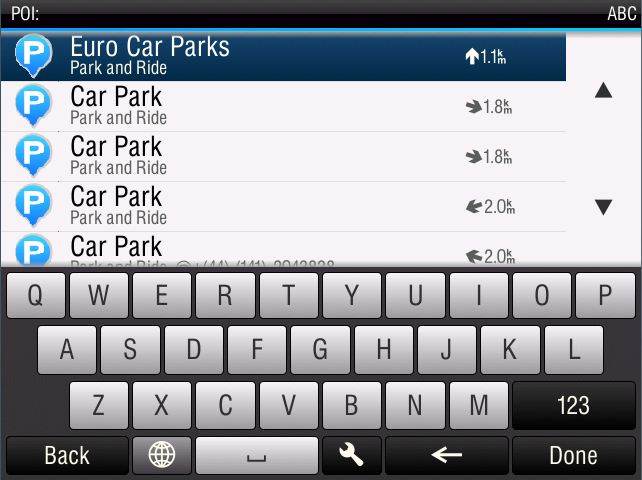 To select a different address altogether, tap the "Back" button.
To set the address shown as your destination, tap the "Route Me!" button at the bottom right of the screen.
If your device can determine your current position, your route will be calculated immediately from that positon. If your current position cannot be determined, you will be offered the following options:

Wait for valid signal (Recommended)
Your route will be calculated from your current position as soon as a valid GPS signal is available (see section "Acquiring GPS Position").

Last valid position
Your route will be calculated from your last known position (i.e. where you were just before the device lost GPS signal).

Select from map
Allows you to select any starting point for the route calculation. You can choose the point from the map manually or use the
Options menu >

Find….
You can find a position by using one of the options described in "Planning the route" section.
When route calculation is complete, the entire route is displayed on the map (in blue) with total distance, estimated time of arrival (ETA), time left to destination and route calculation method (Fastest, Economic, Shortest, Pedestrian, Bicycle) shown below the map.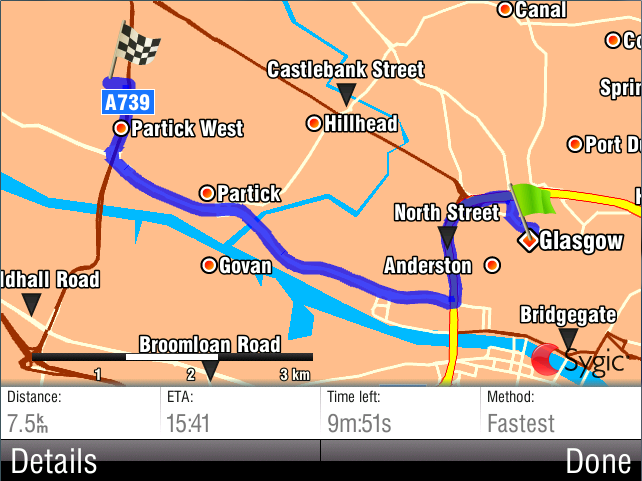 To accept the route and start turn by turn navigation, tap "Done".
For further information on the route, tap "Details". In Detail view the icons highlighted in blue indicate specific types of roads included in the route.
To avoid a specific road type (e.g. Highways), tap the blue highlighted button.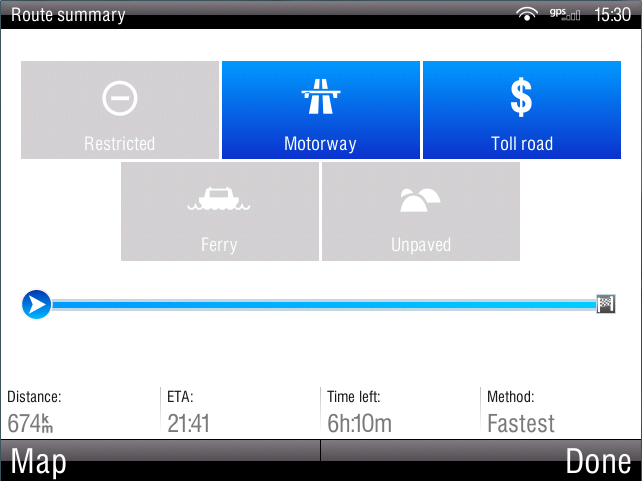 Feedback
Thanks for your feedback.