1/2. From the Contest List screen right click (using your right mouse button) on the Solo (not team) contest you wish to enter competitors into, select the 'Entrants' option in the subsequent menu box, see below:
This will take you directly to the competitor entry screen for the chosen solo contest. The system will search and list all your club members that qualify for the contest and event.
3/4. To enter competitors (into solo contest) choose/highlight the desired person and click the "+" sign to add them to the contest, they will now appear on the right-hand side
5. Once you have entered your competitors, don't forget to click the 'Save' button in the bottom left to ensure the entries are saved.


Note: Branch/State Level – it is recommended that you filter/drill down to the relevant Organisation before you commence adding entries on behalf of a club or to add an exemption entry.


If you wish to view a list of members that do not qualify for a specific contest (ie: are not listed in the contests Qualifying Members List) then uncheck the 'qualifying Members only'.
To view why a member does not qualify for a contest click on the red NO next to the person's name and a pop up will display why this member does not qualify for a contest
(Please note the popup will go away when you move your mouse). Club Officers are unable to add 'non-qualifying competitors' to contests however Eventadmin users that own the carnival will be able to add competitors that do not qualify. Example would be a person that has not fulfilled the min comp patrol hour requirement however still qualifies for competition because the obtain award within the pro-rate period.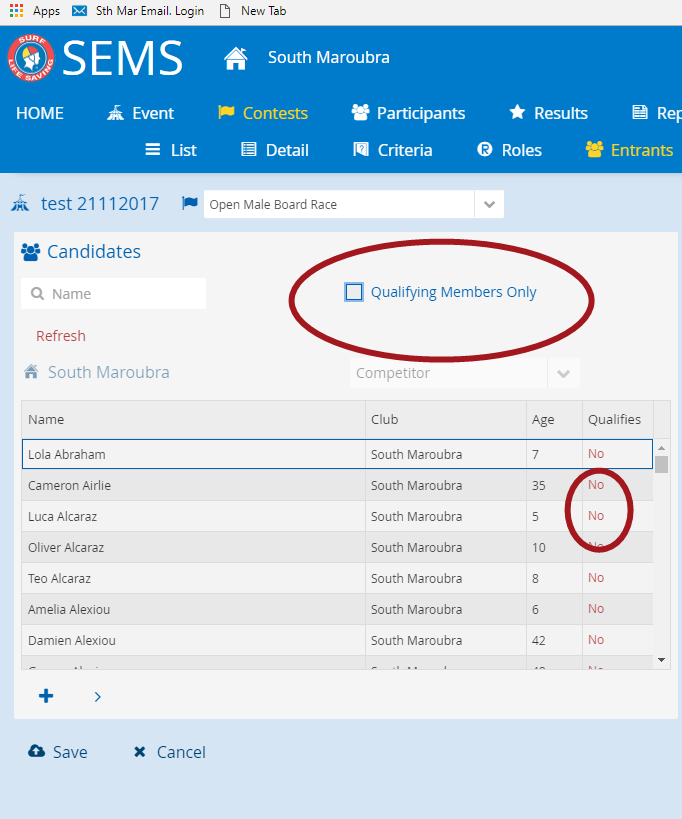 Last modified:
2019/06/25
Feedback
Thanks for your feedback.