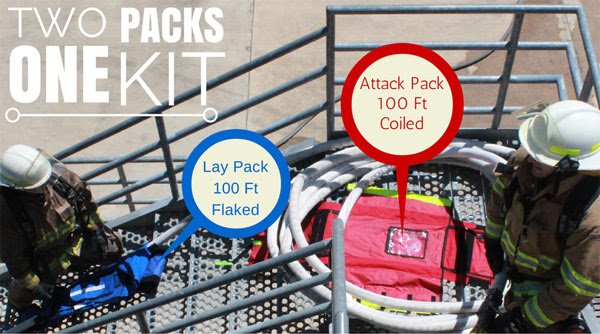 Welcome to QLFA's Attack and Lay Pack manual. We have worked very hard to get these packs to a premium standard.
Things we have considered are:
Stowage – Space is king on a fire engine so an underpinning design intention was to keep things tight and compact while not jeopardising the act to deliberately deploy the equipment.
Transport – 'Bounce' is the term we have used to describe what happens when a piece of equipment is seemingly secured however when carried it bounces and gradually comes loose and starts to hit knees, knock out teeth or cause unnecessary damage to the built environment.
Deployment – As already mentioned, the two packs have very clear roles and subsequently are packed differently so as to achieve their purpose. Critical to the success was the guarantee that all equipment will hold tight however definitely deploy as and when expected
Intuitive design – The role of each pack has been made very obvious – The pack that lays from the water supply is blue for water and the pack that deploys close to the entry point is red for fire. While this sounds obvious- it now means fire fighters can perform their duties with the discussion be centred on the as-yet unknowns of the incident.
Operations – While the hose lay requirement is ultimately the same, no two incidents are the same and therefore it's important that fire fighter understand the capability of the equipment.
Good luck with your Attack and Lay Packs.
Contact us at QLFA anytime: contact@quicklayfireattack.com
We're on facebook: QLFA's facebook page
Feedback
Thanks for your feedback.