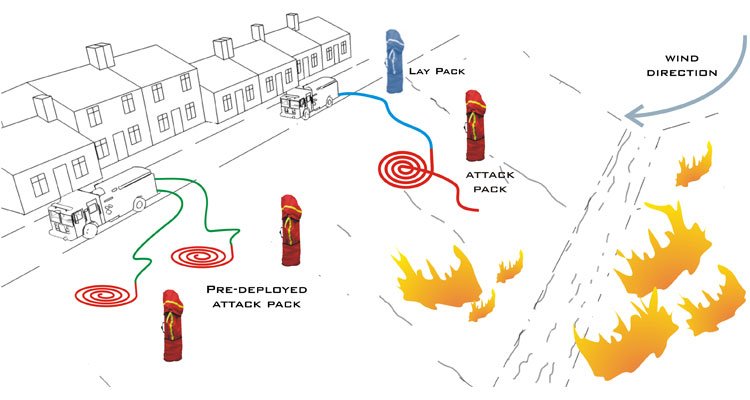 Deploying and managing hose lines during wild fires can be difficult due to the tough terrain, obstacles and rapidly hanging wind conditions.
The need to re-deploy hose quickly due to change in wind direction etc.

Due to the nature of the Attack Pack it can be deployed on the spot in seconds. If the wind changes and the hose lines need to be re-deployed, the uncharged lines can be quickly secured in the packs and carried to the new deployment area.
If they are charged, the coil can be depressurised, disconnected and carried over the shoulder. When it is re-pressurised it will take the same manageable form of a coil.
Moving around property on the urban interface with charged lengths of hose is difficult due to the weight of the hose and the likelihood of it getting caught up around corners etc.

The coiled attack line, deployed from the Attack Pack makes the task of manoeuvring the attack line much easier as it comes from the coiled bundle of hose rather than from long lengths of charged hose.
Extending a hose line is a complicated process as it can't be unrolled in the bush. However, if it's added at the start of the line, the existing charged hose is too heavy to advance through the bush.

When the hose line needs to be extended the Attack Pack can be connected and deployed right at the nozzle in the bush. The coil can then be advanced around the fire, cutting it off.
The coil from the Attack Pack can be charged on uneven ground or even over a shoulder.
Feedback
Thanks for your feedback.