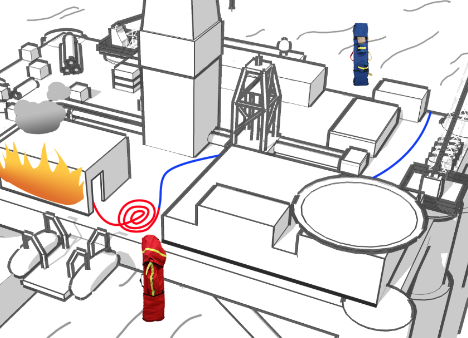 With thousands of lives and millions of dollars worth of assets to protect, heavy industrial sites present with a unique set of complications when involved in fire.
"Rapid response and efficient hose deployment preserves the valuable assets and daily revenue-generating operations"
Inaccessibility for fire fighting vehicles due to rough terrain

The QuickLay packs can be deployed from any pressurised water supply and passed over/under/through a fence or up/down a ladder
Limited water supply points

By combining the Big Lay, Lay and Attack Packs fire fighters have 210m of hose deployed as quickly as the ground can be covered
Rocky, uneven ground complicating hose deployment

The Big Lay and Lay Packs are designed to deploy the hose on-the-fly – this makes the task of hose lay over rough ground effortless
Environmental catastrophes associated with industrial fires i.e smoke plume

Rapid knockdown is essential to limit fire progression and the associated environmental issues associated with industrial fires. The QuickLay packs stretch and coil hose lines as quickly as the ground can be covered between the water supply and the fire
Equipment portability – Traditional rolled hose and the necessary equipment required to fight the fire is too difficult to carry in one trip

The Attack Pack is stored connected and ready to deploy with all the necessary equipment. The weight of the pack is placed close to the fire fighters centre of gravity.
Feedback
Thanks for your feedback.