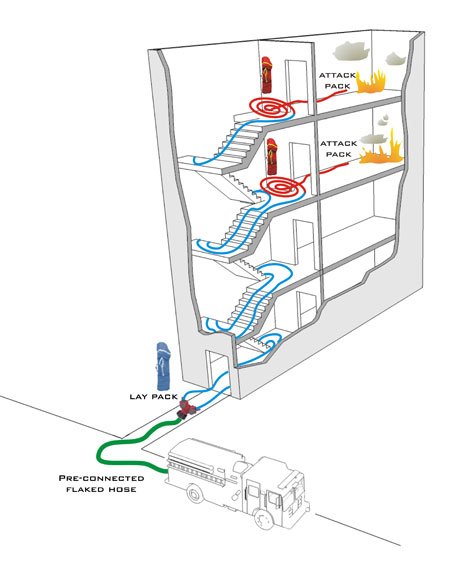 A low rise fire presents a unique set of obstacles for fire fighters, access is limited and hose lines often need to be stretched from the fire appliance parked floors below, out on the street.
Low rise buildings often have a single staircase access. This complicates fire fighter and evacuee movements.

The coiled hose can be charged and stood up out of the way for evacuees to use the stairs with less trip hazards
There isn't always a hydrant system so water needs to be stretched from the first arriving fire appliance

Two attack lines can be deployed from a larger hose line using a combination of pre-connected flaked hose with the Big Lay pack, this combination can be deployed on the fly and can therefore be stretched as quickly as the distance can be travelled over, under or around obstacles
Accessibility to the property is usually limited

Accessibility to the property is usually limited The Quicklay system gives fire fighters more options. The Attack Pack can be easily deployed in a confined stairwell, in a courtyard or on a balcony.
Feedback
Thanks for your feedback.