Water front properties, long overgrown driveways and tight suburban streets complicate the task of fire hose lay.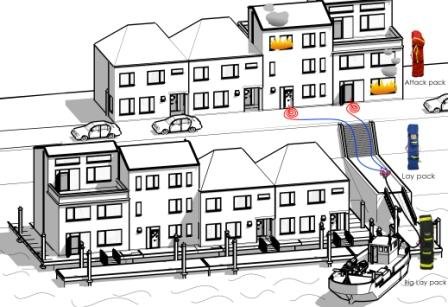 The distance from the fire appliance or hydrant can be too far for a single attack line.

This task is made very simple using the QuickLay Packs. The powerful combination of pre-connected flaked hose, with the optional use of the Big Lay, Lay and Attack Packs gets water on the fire almost as quickly as the distance can be covered between the fire appliance and the point of entry. This gives the second arriving crews an outlet to get to work with immediately
Waterfront properties can often be accessed by fire fighting boats however traditional hose lay up or down steep inclines can deem the task too dangerous or impractical.

Fire fighting crews can be committed to pre-deploy their Attack Pack at a safe entry point; then stretch their Lay and/or Big Lay Packs up from or down to a pressurised water supply i.e fire boat
Feedback
Thanks for your feedback.