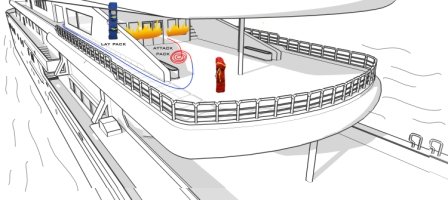 A fire on a ship carrying passengers, liquids or containers can be catastrophic. Rapid hose lay and a significant weight of attack is essential to attack, contain and extinguish the fire.
The decks and corridors of a boat present restricted spaces for the attack lines to be deployed

The Attack Pack can be charged into a coil in a limited space. It can even be charged vertical over a fire fighters shoulder.
Due to the nature of the isolation of a vessel evacuees need to be moved from the area effected by fire to a safe area

The coil from the Attack Pack can be charged and stood up – this provides a safe walkway for evacuees
A vessel at sea is required to attack, contain and extinguish the fire alone as they are floating and remote

Emergency Response Teams (ERT's) can respond immediately and wage a significant attack on the fire – containing it to its point of origin
Fires can be wind driven due to 360 degree exposure a vessel at sea has to the elements.

Rapid knockdown is essential to limit the effect that the wind can have in fanning the fire.
The load on the ship can shift due to excessive water usage in one direction

Attack direction is important and can easily be managed using the Lay pack to stretch hose to the ideal attack area where the Attack Pack can be deployed and advanced
Equipment portability – Traditional rolled hose and the necessary equipment required to fight the fire is too difficult to carry in one trip

The Attack Pack is stored connected and ready to deploy with all the necessary equipment. The weight of the pack is placed close to the fire fighters centre of gravity limiting fatigue on route to the incident.
Feedback
Thanks for your feedback.