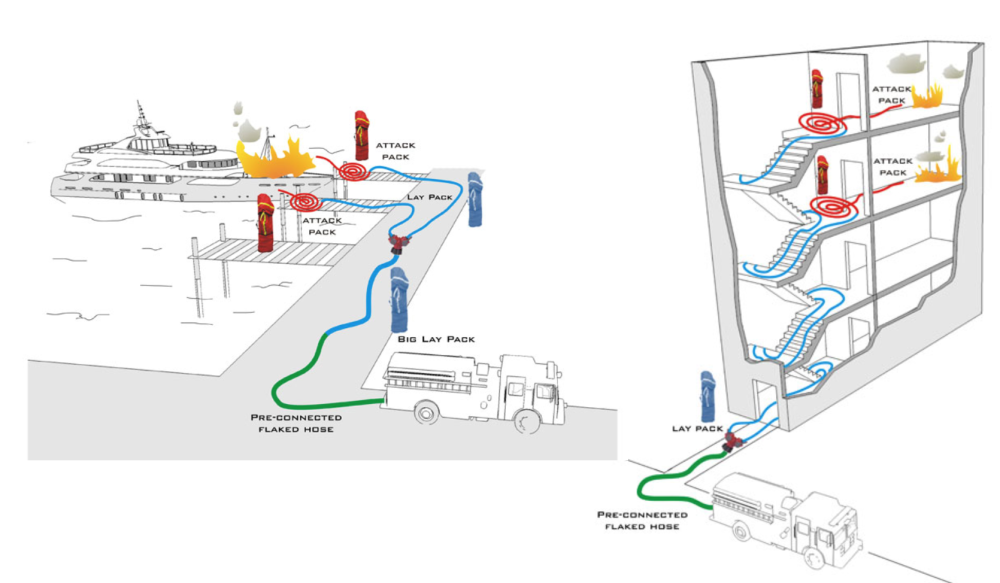 This technique is used by departments all over the world and has many names and many variations. If you use this and do it differently and it works then there's absolutely no need to change- not all departments are familiar with the idea so we have detailed it here.
The concept simply involves using a larger hose and splitting it into one or two smaller hoses (attack lines) closer to the job.
This technique is the Standard Hose Lay with the initial inclusion of a larger hose controlled with a pre-attached gated-wye.
This larger hose can be supplied from a fire appliance or a fixed/onsite reticulated water supply.
Every situation is different however the general steps to follow are:
Fire attack fire fighters carry the Attack and Lay Pack to the entry point

If the fire's location is known- lay to it
If the fire's location is not known- find it and lay from it

A larger hose is stretched from the water supply. Ideally the driver of the pumper/engine does this but that will depend on your crew size
One the larger hose is laid and a gated-wye is connected it can be charged with water
The fire attack crews can then connect their pre-laid Lay Pack hose and Attack Pack's Cleveland Hose Load
This can be seen here:
Feedback
Thanks for your feedback.