Where Table Views present data – individual fields within a selection of records – in a variety of manners, Charts present information and business intelligence in the sense that the data is mathematically and statistically transformed and then presented in graphic format. This format enables the user to visualize the each piece of information in the context of other information and/or against a fixed relative scale.
Ninox offers eight different chart types, each with a variety of presentation and configuration options. Seven of the chart options are available when users select "Chart" from the New View window that is displayed in the image below.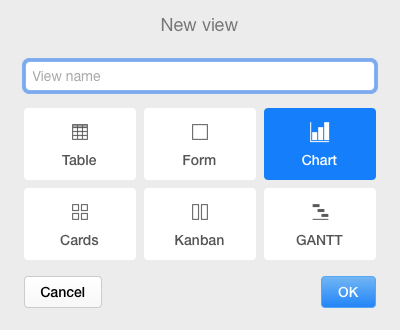 The eighth chart option – the Gantt Char – is also available and is accessed by clicking on the bottom, right-hand icon in the New View selection window.
Last modified:
2019/03/29
Feedback
Thanks for your feedback.