Description: The substring() function extracts part of a String and has several variations on syntax. If the String input is a null value, the formula will return "".
Syntax:
substring(String, Start, End)
substr(String, Start, Length)
WHERE
substring or substr in lowercase initiates the function
String is a single (not an array) Text element
Start the character number you wish to start on – zero based
End is the character number you wish to end on – zero based
Length is the desired number of characters and is not required
Things to keep in mind when constructing this function:

The key element of the function is case sensitive and must be entered in all lower case
The String element is required
The Start element is required and must be a number
The End element is required and must be a number
The Length element is not required but must be a number
If Length is left out, Ninox will return as many characters after the start as exist in the remainder of the string
The result of the formula is a string
You will receive an error in the formula if the input is not a Text element


Syntax Examples:
substring("Nioxus is great!", 0, 6) = "Nioxus"
substr("Nioxus is great!", 7) = "is great!"
Real World Solution:
Sometimes you want a field in each record to have exactly the same number of characters. Just use the lpad() function and you'll get exactly what you want. Say you have a Category field that you'd like to pad to 15 characters.
Here's the code:
lpad(Category, 15, "" )
The result would look like this: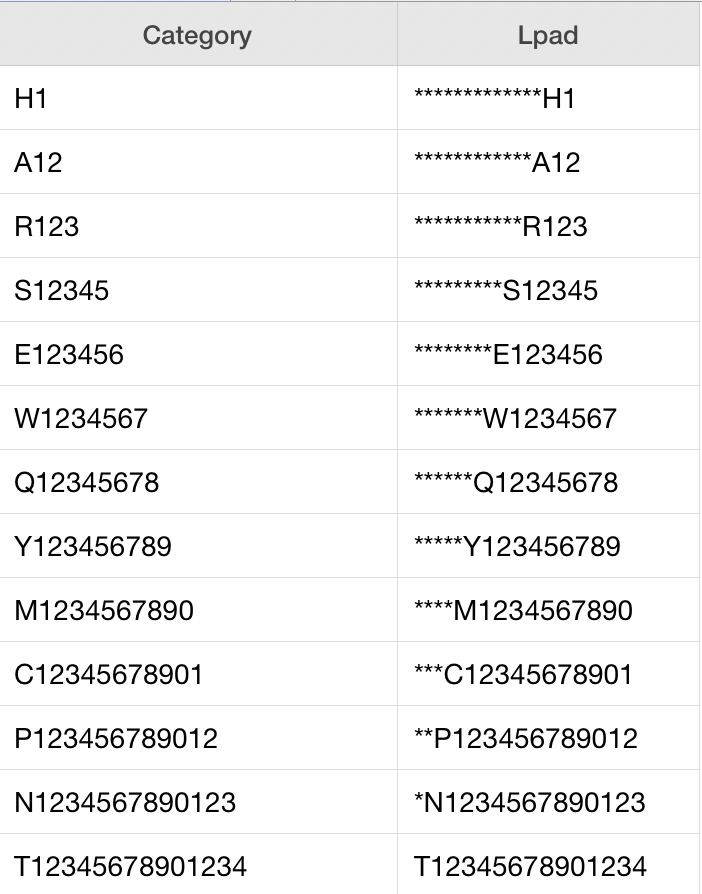 Last modified:
2019/11/03
Feedback
Thanks for your feedback.