Description: The lpad() function left pads a text string to the length desired. If the String input is a null value, the formula will return "".
Syntax:
lpad(String, Length, Padding)
WHERE
lpad, in lowercase initiates the function
String is a single (not an array) Text element
Length is the desired number of characters
Padding is the text used to pad the String
Things to keep in mind when constructing this function:

The key element of the function is case sensitive and must be entered in all lower case
The String element is required
The Length element is required
The Padding element is required and must be text
If the Padding is "" the result will be ""
If the Padding is " " the result will be the String with no padding
The result of the formula is a string
You will receive an error in the formula if the input is not a Text element


Syntax Examples:
lpad("Nioxus is great!", 20 "*" ) = "**Nioxus is great!"
Real World Solution:
Sometimes you want a field in each record to have exactly the same number of characters. Just use the lpad() function and you'll get exactly what you want. Say you have a Category field that you'd like to pad to 15 characters.
Here's the code:
lpad(Category, 15, "" )
The result would look like this: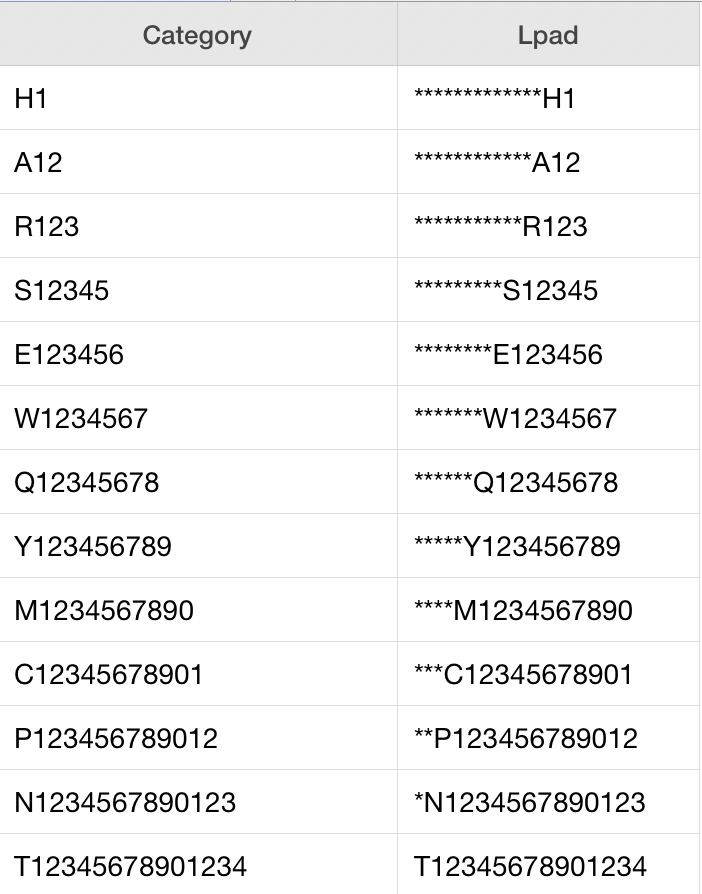 Last modified:
2019/11/03
Feedback
Thanks for your feedback.