Step 1
You must use Firefox to print. You will also need to download the JS Print Setup add-on for Firefox. After it is installed, please restart Firefox.
Note: In order to successfully complete the print set up you must download the JS print Plugin before you have access to continue the Zebra configurations page. Here is the error you will get without the Plugin: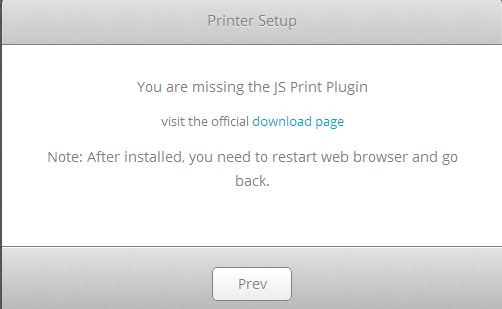 When you return to InventoryLab you may get a notification that the site is requesting permissions for print settings.
If you receive a notification of this sort, make sure to select "Allow", or "Allow and Remember" if this is an option.
Step 2
Navigate to the User Settings area of InventoryLab and locate the Printer Settings tab under the List area in Settings.
Now, click on the Zebra icon. InventoryLab will check for presence of the JS Print Add-on and display a Green message if the Add-on is found and a Red error if it is not. You must get a GREEN response to continue.
Step 3
Select the name of your label printer type from the drop down box and proceed to enter in the dimensions of the label stock loaded into your printer. Enter your size in Inches, using two decimal places. Then, click on Done.
You MUST set your label size under Windows button/Devices and Printers/Right-Click on your printer and Select Printing Preferences/Size.

Step 4
This step can be performed at any point after the JS Print Add-on has been installed in Firefox, but it's easiest if done last. You will need to complete some manual configuration steps for your browser settings which are outlined as follows (the steps are not the same on OS X and Windows – each OS is covered separately):
(NOTE: Depending on your OS and version of the Firefox Browser, your labels might print out of a new tab in the browser. If this IS the case for you, then make sure you do not close the new tab. Just leave it be. You will only have to do this on first label print of a batch.)
WINDOWS
In Firefox, you will need to change a few things in your browser printer settings.
To Access the settings:
Click Page Setup by clicking File-> Page Setup or by clicking Page Setup from the top of your Print Preview.
You will see two tabs at the top. Click on Margins & Header/Footer.
Change Portrait to Landscape.
Change Scaling to 80%
OS X
In Firefox you will need to click File > Page Setup
Set Orientation to Landscape (sideways photo on the right)
Scale to 70 %
Click the "Paper Sizes" drop down menu.
In the drop down, select Manage Custom Sizes at the bottom
Set both Width and Height to 4
For the non-printable area:
The top should be 1.8. All others areas should be 0.