Often, sellers take advantage of coupon codes, sales, etc and may buy the same MSKU at different prices even on the same day.
For example, on Friday you purchased 10 widgets for $10 each. On Saturday you bought 10 more widgets for $8 each because you had a coupon. On Monday you try to put all of these widgets in the same batch but List will only allow you to enter one cost. This is when the Sub MSKU process comes into play. While listing just choose one of the buy costs. Then, once the product feeds have been sent follow process outlined below.
Navigate to the Inventory Tab and do a search for the item. When the item appears in the search results, click on the MSKU as shown below
Creating Sub
MSKU

s using the Total Quantity Remaining

Click on the Add Sub MSKU button

Type in the 4 required pieces of information and click the Add button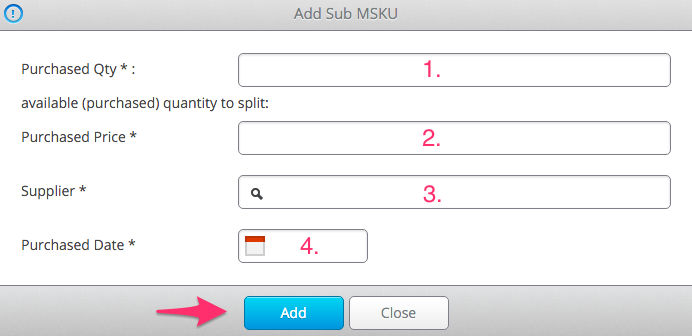 Your MSKU will then be split into Sub MSKUs as shown in this example. Each Sub MSKU will be a new Sort Sequence number.

Splitting
If you have no items showing in "Total Remaining Quantity", but want to create Sub MSKUs with the inventory already showing in a Sort Sequence, you can split it.
Click on the checkbox on the line you want to amend and click "Split"

A pop-up will appear where you can enter the information for the second purchase of 10 at $8.00 a piece. After entering the information click "Split"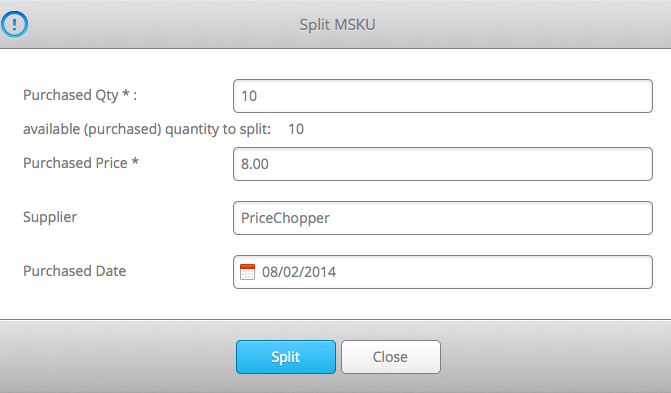 InventoryLab now displays the correct accounting information for all 20 items.

Feel free to checkout our video about Sub MSKUS!
Sub MSKUs May 2016 from InventoryLab on Vimeo.