Often our users have expenses that recur every month that need to be entered into the other expenses screen. InventoryLab allows you to set expenses that you enter to be recurring on a weekly or monthly basis.
To add a new recurring expense go to Accounting>Other Expenses and click "Add"

After clicking "Add" the following screen will appear. In this screen enter the category, date, cost and description. The next field is where you choose if the expense should never reoccur or if it should reoccur weekly or monthly.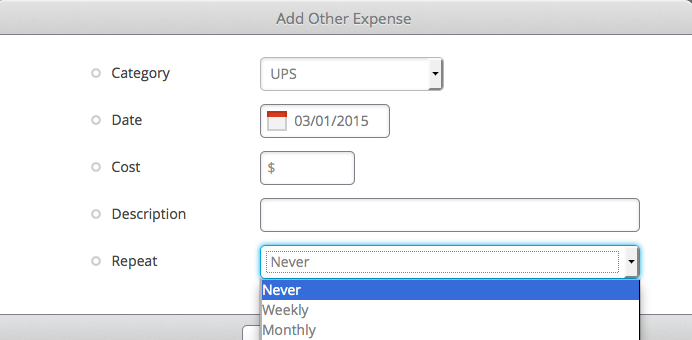 If you choose weekly, the next step is to choose which day you want the expense to occur on each week and for how many weeks you want it to continue. If you choose monthly, the next step is to choose the date of the month that you want the expense to occur each month. Once you hit create, the expense will appear and will continue to reoccur according to the settings you chose.