If you would like to know how to use this feature with a barcode scanner, visit out Box Content Scanning – Private Workflow article.
Click on the name of the shipment you would like to create Box Content Information for.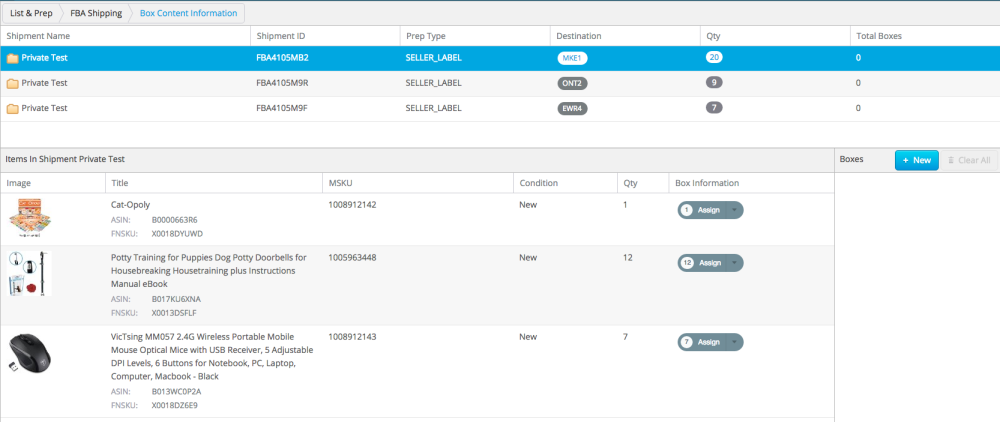 Box number 1 (ending in U001) is already created for you when you enter the box content page. If you need to add additional boxes, then click the +New button to create a new box.

Click the drop down arrow next to Assign, choose the box you'd like to put your items in, the quantity you'd like in the box, and click Assign
A gray box means you have not assigned any quantities of that item to a box yet.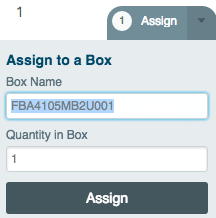 If you only assign a portion of the quantity of an item in your shipment to a box, you will notice the remaining quantity still has a gray Assign button next to it. This indicates that you have more of the item that has not yet been given a box designation.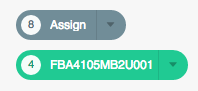 A green box for all quantities means that the entire amount of that MSKU going to that fulfillment center, have been successfully assigned to a box.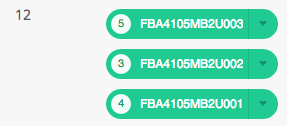 Once you have assigned all of the items to boxes for every shipment, click the Transmit All Boxes to Seller Central button in the lower right hand corner.

After you have completed your batch, all box content information will be sent to Amazon.
If you need to edit your Box Content Information after you have already completed your batch, you can do so easily! See: Editing Box Content Information – Private Workflow for details.