Once you send your product feeds and choose to create FBA shipments in a Private Workflow, you will be on the Proposed FBA Shipments page. On this page, you will have the choice to create or decline a shipment or add to an existing working shipment if applicable. You will also have the choice to change the shipment name.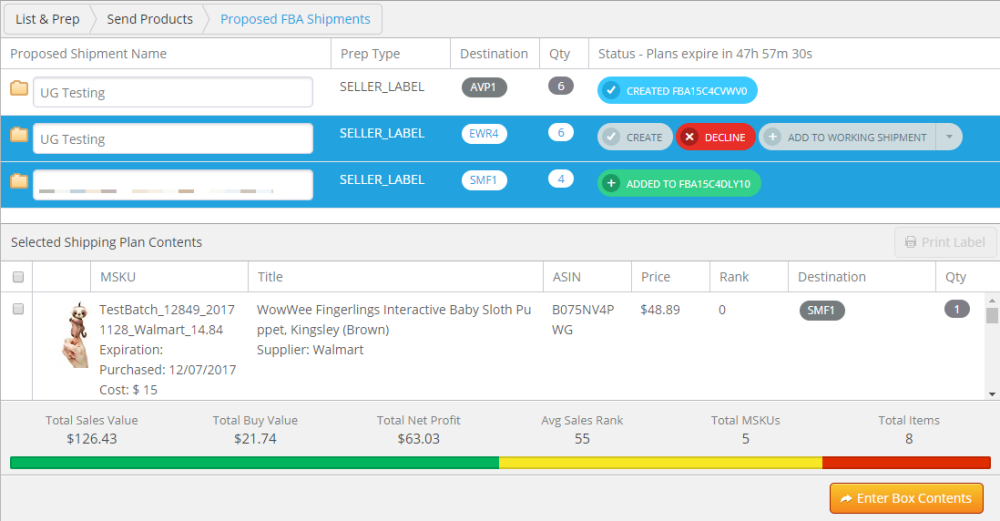 Note: The proposed shipment destinations are subject to expiration after 48 hours in which Amazon will re-evaluate the destinations. There is a countdown to when the plans expire on this page, so be sure to either create, decline, or add the shipment to an existing shipment before the time runs out.

Adding to an Existing Working Shipment
The 4 requirements for adding to an existing shipment are the following:
The first shipment that you are adding to has to be sent from InventoryLab (it cannot have been created through a shipping plan in seller central)
The destinations must match
They must be the same label prep type. For example you cannot combine a NO_LABEL with a

SELLER

_LABEL shipment. For instructions on combining these, check out this help article.
Your "Box Content" selection must be the same. ie: Both batches had to be Box Content "On" or both had to be Box Content "Off" at batch creation. You are not allowed to only provide box level content details for a portion of your shipment.


If a shipment is eligible to be added to an existing one, a down arrow will appear next to the the Add to Working Shipment button.  To add to the existing shipment,  click the down arrow and choose which shipment you would like to add to.

Once a shipment is selected, a prompt will appear asking if you are sure.

If you choose 'Yes, Add', your shipments will be combined immediately.

Note: If a shipment is no longer in Working status in Seller Central, be sure to press the 'Sync' button to have it removed from the Working Shipments area. This will avoid accidentally adding the new shipment to one that is already completed.
 
Once a shipment is selected, the button will turn green. Once you make this choice it will immediately add to the existing shipment, so be sure this is what you want to do.
If Box Contents are OFF, you will only need to click the 'Complete Batch' button to finish with the batch. If Box Contents are ON, you still need to provide box contents for the items you have added. For more information, check out the below article: