Importing into Inventory
Importing accounting details into your inventory is easy!
The rules for importing are simple:
Make sure your file type is a .csv file (not .txt, .xlsx, etc.)

MSKU

, Cost/Unit, and Purchased Date are a must have. If you leave the other columns blank, that is okay – headers need to stay though.
Prices cannot have a $ in them
Dates must be in MM/DD/YY or MM/DD/YYYY format
Note: Imported changes can take up to 20 minutes to take effect on your account.
Pull up your FBA inventory in InventoryLab and click Export


Open up your exported file and update the buy cost, supplier and/or date purchased information.
When you are ready to import go into your FBA inventory in InventoryLab and click Import
You will see a screen that asks you to choose the file you want to import. Choose your file and click Next

The next screen allows you to match the fields in InventoryLab with the columns in your .csv file
The required fields are in red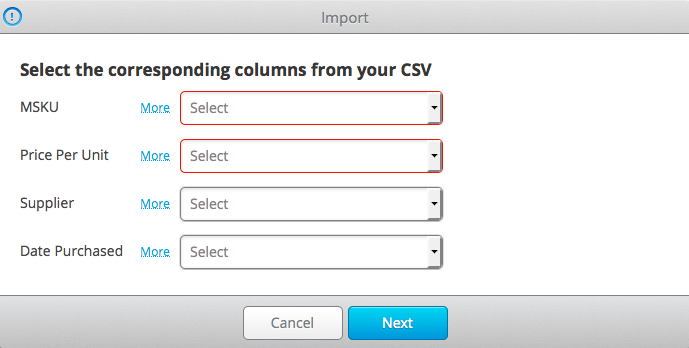 Select the correct columns for InventoryLab to import from for each field and click Next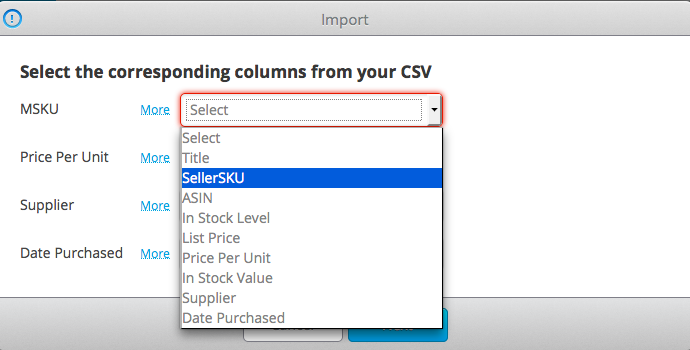 That's it! You should now receive an Import Success message.