Importing into Accounting
Sometimes, you will want to import your costs directly into your Accounting>FBA Sales or Accounting>Merchant Sales pages.
Generally, you would only want to make updates in your Accounting tab to items that were deleted from your Inventory prior to you capturing a Buy Cost and now you have past sales that you need to add those Buy Costs to. If the MSKUs needing updating are still in your Inventory, please use the Importing Accounting Details into Inventory Via .csv option.
Note: Imported changes can take up to 20 minutes to take effect on your account
Visit the Sales page you would like to export (FBA or Merchant).
Click on Import

Unlike importing into Inventory, there are 2 options for how to import into Accounting: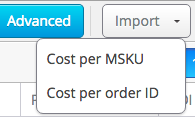 Cost Per MSKU – Allows you to import your cost for all of an MSKU at once. This will change every order under that MSKU to the same Buy Cost.
Cost Per Order ID – Allows you to import different costs based on your Order IDs. This allows you to assign Buy Costs to the items within certain Order IDs.
Importing Supplier data currently is only available on the Cost Per Order ID selection.
Once you have chosen how you will be importing your data, you will see a screen that asks you to choose the file you want to import. Choose your file and click Next

The next screen allows you to match the fields in InventoryLab with the columns in your .csv file
The required fields are in red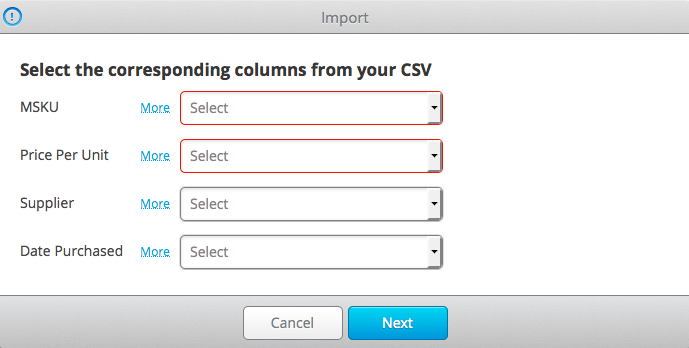 Select the correct columns for InventoryLab to import from for each field and click Next
That's it! You should now receive an Import Success message.